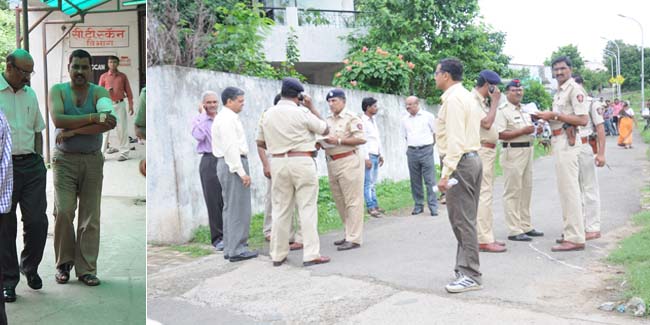 Nagpur News: A 40 year old man was shot at near Friends Colony from a country made pistol on Monday morning. The man identified as Umesh Yadunath Pandey, 40 sustained injury on his left arm as the bullet hit by his side. The accused Kunal Sharma was arrested later. Gittikhadan police is investigating the matter. Sources said that attack was made out of an old enmity that cropped from the case of love affair. However, it is not confirmed yet.
The incident took place when Umesh was returning towards his establishment at Butibori after collecting rent from his tenant at Surendragarh. He runs a bar and mess at Butibori and has long before shifted there from Nagpur. He was riding through the ghats of Friends Colony on his bike with a pillion when he was intercepted by Kunal who too was on his motorcycle along with his accomplice whose name was said to be Sultan. Immediately after stopping Umesh, Kunal's friend reportedly took out his country made pistol and fired at him reportedly at the behest of Kunal. Umesh received injury on his left arm.
Umesh also pounced on him and snatched the pistol. Both the attackers later fled away from the spot. Gittikhadan police later caught them from Wardha road.
Umesh has been rushed to Mayo hospital where his condition was said to be stable.
DCP Mangaljeet Siram along with other senior police officials also reached the spot. Police have recovered pistol from Umesh.
Police was yet to ascertain the reasons behind firing however sources informed that Umesh had reportedly warned Kunal in the past over some issue related to a girl. Since then Kunal was looking for the chance to revenge.