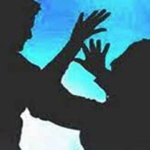 Nagpur: A middle aged man molested a teenage girl inside a toilet at her house in Shanti Nagar, on Saturday. According to police, accused Vilas Nimbarte (40) sneaked inside the toilet on Saturday when the girl was attending nature's call.
The accused told the girl that his friend has her obscene pictures and threatened to upload them on social media. Later, he molested the girl and walked away.
The girl narrated the incident to her parents and lodged a complaint. Shanti Nagar police registered acaseunderSections354and342 of the Indian Penal Code against Vilas Nimbarte.