Kanhan WTP to remain non-operational from Oct (11 AM) to Oct 5 (4)
Water Supply in Lakadganj, Asinagar, Satranjipura, Nehru Nagar & Dhantoli Zones to remain affected…
No Tanker Supply…

Nagpur: In a bid to stop wastage of water through old & deteriorated pipelines, Nagpur Municipal Corporation and Orange City Water have planned take interconnection work of 900mm x 900mm on Kanhan Water Treatment Plant (1300/900mm dia) main supply Feeder line near Shanti Nagar Nalla on October 4, 2017 (Wednesday).
To execute these works NMC-OCW has proposed for 30 hrs. Shutdown of Kanhan Water Treatment Plant (WTP) from 10 AM on 4th Oct'17 to 4 PM on 5th Oct'17. During the shutdown, Kanhan WTP will remain non-operational and areas feeding from Kanhan WTP will remain affected for almost 30-hours. After this interconnection, newly laid 900mm line on Nallah crossing will be charged and chances of leakages from existing old & deteriorated line and obstruction in waste water flow in Nallah can be avoided.
Along with this few other leakages repairing work on Kanhan Feeder Main line like Leakage repairing on Kanhan 900mm dia. feeder line Scour location at Pili Nadi, Kamptee Road and leakage repairing work on Kanhan 700mm dia. feeder main near Shantinagar Nallah will also be executed in same shutdown period.
Water supply especially in Lakadganj Zone, Asinagar Zone, Satranjipura Zone, Nehru Nagar Zone & Dhantoli Zone will remain affected during shutdown work. Water supply through Tankers will also be not possible as the ESR's in these areas will remain totally dry.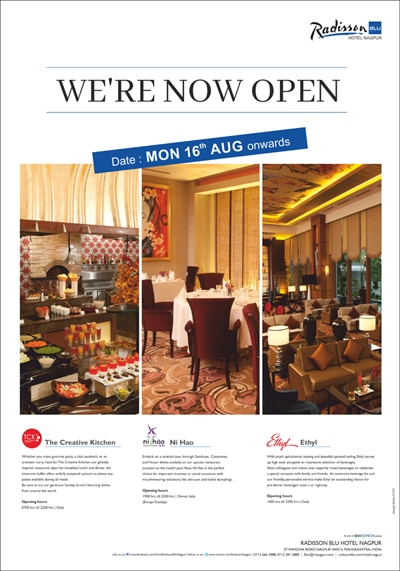 NMC-OCW has requested people from these areas to store sufficient water for their use.
Zones/ESR's to remain affected during shutdown are:
Lakadganj Zone: Bhandewadi ESR, Deshpande Layout ESR ( Bharatwada), Lakadganj, Minimata Nagar, Subhan Nagar, Kalamana ESR and Pardi I , II ESR.
Asi Nagar Zone: Binaki (Mahendra Nagar), Binaki I, II, Gamdoor DT, Aaakashwani DT, Jaswant Mall DT, Itabhatti Chowk DT.
Satranjipura Zone: Shanti Nagar ESR, Wanjari, Bastarwadi, 10 No Puliya DT, Indora Square DT.
Nehru Nagar Zone: Nandanvan OLD, I & II ESR;s Sakkardara I, II, III, Tajbagh ESR, Kharabi DT and Bhande Plot DT.
Dhantoli Zone: Old Nandanwan, Shivnagar, Mahavir Nagar, Ganesh Nagar, Neheru Nagar, Sudampuri, Some parts of Om Nagar, Bhande Plot BapuNagar Gurudev Nagar , Ishwar Nagar, Mire Layout, Kabir Nagar.
As Kanhan WTP will remain non-operational for almost 30-hours, NMC-OCW have appealed people to co-operate and if they have any complaints regarding water supply or need information please do contact @ NMC-OCW's Toll Free Number 1800 266 9899 at any time.