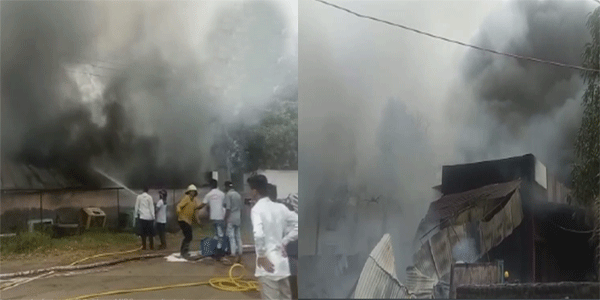 New Delhi: A major fire broke out at a cooler factory in Chikalthana MIDC area of Aurangabad, news agency ANI reported on Friday. The accident took place in the morning. There are no reports of any casualty or injury till now. The exact cause of the fire is yet to be ascertained.
The rescue operations underway and 15 fire tankers have been rushed to the spot. Huge clouds of smoke billowing from the premises could be seen miles away. Locals were also helping the officials to douse the flames. A panic spread in the nearby the area.
In a similar incident in August, a major fire (Level III) broke out at a refinery of Bharat Petroleum Corporation Limited (BPCL) in Chembur area of Mumbai. At least 43 persons are reportedly injured in the incident. As per reports, explosions were also heard before the flames engulfed the refinery.
In June, the level II fire that broke out at commercial premises on Appasaheb Marathe Marg in Worli, Mumbai. Reports said that the fire broke out on the 33rd floor of the Beaumonde Towers. Reports had suggested 90-95 people have been rescued. The cause of the fire was not known.