Cloth shop in Sitabuldi goes up in flames; Goods worth lakhs gutted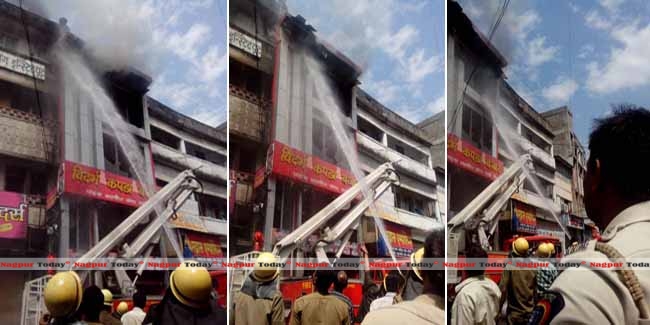 Nagpur News : Panic and fear gripped the busy market area of Sitabuldi when fire broke out into a cloth shop on Friday afternoon.
The commuters and nearby shop owners noticed flames coming out from Chandak Cut-piece and Saree Centre situated at Vidarbha Kapda Bazaar building, near Indian Training Institute. They shouted for help and immediately informed the fire brigade department. The department swung into action and sent two fire tenders to control the fire. However, two tenders were unable to control the fire and thus, three more tenders were sent to control the fire. According to the witnesses, the fire broke out at around 12.30 pm on Friday. Officials said that the owner of the shop is Gulabchand Chandak (70).
हिंदी मे न्यूज़ के लिय यहाँ  क्लिक करे 
Till filing of the report ( 13:36 pm ), Fire Brigade officials were still trying to control the fire. Officials said that material worth lakhs of rupees was destroyed in the fire but proper figures for the loss would be informed only after getting control over the fire. Officials suspected that short circuit might be the reason behind the devastating fire but reason would be decided only after the investigations into the matter.
हिंदी मे न्यूज़ के लिय यहाँ  क्लिक करे 
Sources said that the fire created panic and anxiety into the busy Sitabuldi market area and working came to a standstill in the area. Fire brigade officials were trying to control the fire till filing the report.