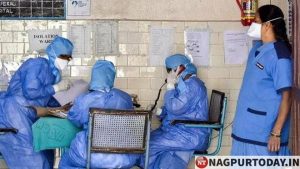 Nagpur: Nagpur District Administration on Friday, added 15,306 novel Coronavirus (Covid-19) cases and 1,076 deaths to its Covid tally on the pretext of wrong entries made to the ICMR portal earlier. With the latest addition the total number of cases in the district now stands at 4,92,728 while the number of deaths have crossed the 10k mark and now stand at 10,115.
According to the District Administration, the addresses of 6,794 patients outside the district along with 8,512 other patients were not correct. As a result, they were not included in the database. However, now these entries have been made to the ICMR portal, adding 15,306 patients. The District Administration also said that the death toll has increased. According to the administration, 1,076 deaths were not earlier added to the database. These included 190 deaths from other districts, 295 from Nagpur rural and 591 from the city.
The number of active patients rose from 11 on Thursday to 313 on Friday. These are 233 patients in Municipal areas and 79 in rural areas. This paints a grim picture of the constant threat of corona. In addition to recoveries, the number of cured patients have increased by 14,307 to 4,82,300.