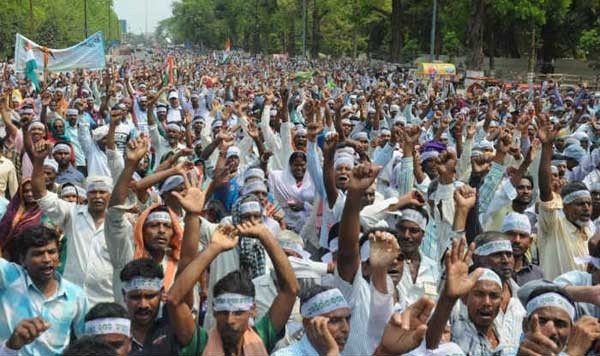 New Delhi: A 10-day farmers strike starting from June 1 to June 10 will ensue as the farmer groups under the banner Rashtriya Kisan Mahasangh announced a nationwide strike yesterday. The strike is being held to demand loan waiver, higher prices for produce and implementation of the Swaminathan Commission's recommendation on minimum support prices (MSP). The strike will however see the farmers halt the supply of milk and vegetables to cities.
However, the strike will not see other farmer groups such as, The Kisan Sabha, Peasant and Workers Party, Prahaar Sanghatna and Raghunathdada Patil's Shetkari Sanghatna participating. With the other farmer groups non-participation in the strike, the nationwide strike has turned into more of a state one and thus will only have Maharashtra being affected. Out of these groups, The Kisan Sabha will be holding a separate protest. The Kisan Sabha's Ajit Navale said that their group would be gheraoing tehsil offices to protest against the issue of low milk prices on June 1.
It must be noted that a similar protest was raised by the farmers last year as well but the nature of the strike is different this time. This time farmers will be selling their produce in their villages but wouldn't be selling them in the cities. Shivkumar Sharma Kakkaji, one of the convenors said that the government has not left the farmer community with any choice. This is their way of peaceful protest against the Centre-led driven schema of things, such as- hike in petrol prices, GST on farm products to name a few. He also added that their group's strike is not political and hence everyone could join it without bringing any sorts of banners or flags.
Meanwhile, Mandsaur collector OP Shrivastava said that to combat the problems that people could face during the strike, the administration is trying its best to ensure that there is no shortage.