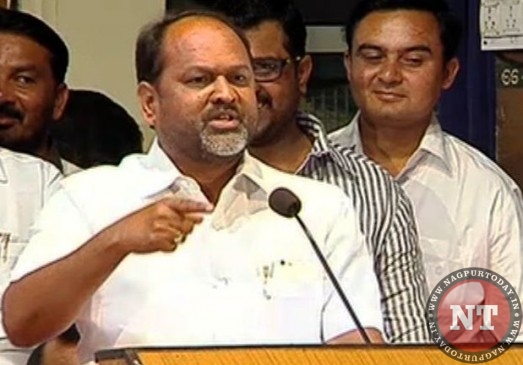 Nagpur: Maharashtra Animal Husbandry Minister Mahadeo Jankar, who was a member of the Legislative Council from the BJP quota, has resigned from the Upper House.
The resignation of Jankar, who has his own political party – Rashtriya Samaj Paksh – was announced by Council Chairman Ramraje Naik Nimbalkar in the house today.
Jankar, an ally of the BJP, told PTI he quit as an MLC yesterday and an announcement of this effect was made by the chairman in the house today.
"Since I have filed my nomination as a member of my own party for the July 16 biennial council polls, I resigned to avoid any technical problem," he said.
Jankar said he was a member of the council from the BJP quota.
"When I was made an MLC for the first time, I wasn't aware of the forms to be filled. So, I filed my nomination as a BJP member," the minister said.
The biennial elections to 11 seats in the Upper House will be held on July 16. All the Members of the Legislative Assembly (MLAs) – 288 elected and one nominated – are eligible to vote in the polls.
The BJP nominated Jankar on its list of five members and all of them can get elected given the ruling party's increased numerical strength (post 2014 polls) in the Lower House.
But since Jankar has filed nomination as a candidate of his own outfit, the ruling party fielded a sixth candidate, Prithviraj Deshmukh.
Asked if he or Deshmukhwill withdrawcandidature, Jankar said a decision in this regard will be taken by Chief Minister Devendra Fadnavis.
Revenue Minister Chandrakant Patil told reporters that efforts are on to ensure candidates are elected unopposed.
The last date of withdrawal of nomination is July 9.
Of the 11 members whose term of membership ends on July 27, four are from the NCP, three from the Congress, two of the BJP and one each from the Shiv Sena and the Peasants and Workers Party of India (PWP).
Considering their current numerical strength in the assembly, the BJP can comfortably win five seats, the Shiv Sena three, while Congress-NCP can safely win one seat each and can also help sitting PWP MLC Jayant Patil to retain his seat.