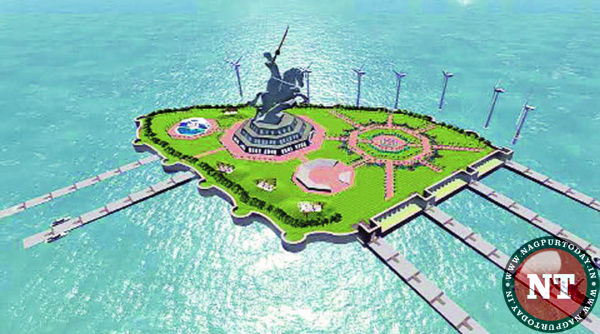 The Maharashtra government has tweaked the design of the proposed statue of Chhatrapati Shivaji in an attempt reduce the cost of constructing the memorial, The Indian Express reported on Monday.
The height of the statue is now 7.5 metre lesser than what was originally proposed, though the sword that the king wields is taller.
Sources said it had accessed documents available under the Right to Information Act, which showed that the Devendra Fadnavis government had originally proposed a statue 121.2 metre tall, including the sculpture of Shivaji on his horse together measuring 83.2 metres, and a 38-metre sword.
However, in the new design, the height of the sculpture of Shivaji has been reduced to 75.7 metres, and the length of the sword raised to 45.5 metres – thus maintaining the statue's height of 121.2 metres.
The original base length of the sculpture has also been reduced from 96.2 metres to 87.4 metres. Overall, the changes have resulted in a cost reduction of Rs 338.94 crore, sources said.
Last year, the government opted for cost optimisation measures to reduce the cost of the memorial from Rs 3,826 crore to Rs 2,800 crore. On March 1, the government issued a Letter of Acceptance to Larsen & Toubro for the project. The changes in the statue's design will reduce the costs further.
The government has also deferred the costs of the first year operations and maintenance of the project. It has also scrapped plans for a VIP jetty and a safe house.
However, the Fadnavis administration has denied the Opposition's claims that the statue's height has been reduced to cut costs. "I have written to the consultant, the contractor and public works department officials asking for a presentation on how cost reduction has been achieved," MLA Vinayak Mete, who is also chairperson of the Project Implementation and Monitoring Committee for the Chhatrapati Shivaji Maharaj Memorial, said.