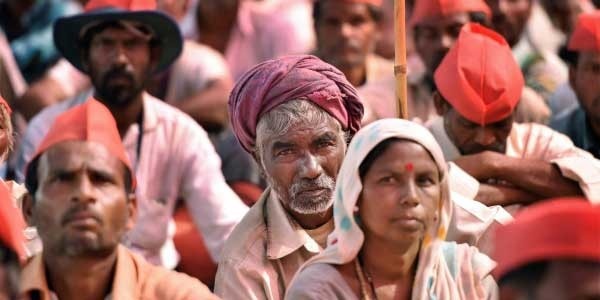 Mumbai: Farmers in Maharashtra will court arrests on May 14 to protest the state government's "failure" to keep various welfare assurances it had given to them earlier.
Leaders of farmers and various political fronts said they are planning the 'Jail Bharo' protest at taluka and district levels across the state to draw the attention of the government which is not addressing the issues of farmers.
"Despite giving assurances, the government did not implement them. We have conducted various agitations so far like not paying electricity bills, observing fasts, launching a protest march etc., but farmers could not get any relief," said Kishor Dhamale of Satyashodhak Shetkari Sabha.
He claimed that farmers are coming forward to participate in the protest and that over two lakh farmers will court arrests.
Dhamale demanded the government pay Rs 7,000 crore to milk producers for the losses they have suffered due to the state government's failure to offer them a good rate for their produce.
"Around three crore litres of milk is produced every day in Maharashtra. The government had promised the rate of Rs 27 per litre, but farmers are getting the rate of Rs 20 per litre. They have to bear losses of Rs 21 crore every day which means the losses of Rs 7,000 crore till today," he said.
Meanwhile, Maharashtra State Electricity Consumer Organisation convener Pratap Hogade termed as "false" the state government's claim of the total electricity bill outstanding of Rs 24,000 crore.
"The government is recovering more electricity charges from the farmers. Though they (farmers) get a subsidy, the bills are inflated. We met the chief minister on the issue, but the government is trying to save power distribution company– Mahadiscom," he alleged.
Farmer leader Raghunath Patil said the Rs 34,000 crore loan waiver announced by the state government last year has not benefited the farmers much.
"After the loan waiver was announced, 2000 farmers committed suicide. Contrary to the government's claim of distribution of Rs 32,000 crore of the waiver, the fact is that not even Rs 20,000 crore has been distributed.
"Other promises like assured minimum support price are not kept by this government. There were 75,000 suicides (of farmers) in Maharashtra in the last 32 years," he claimed.