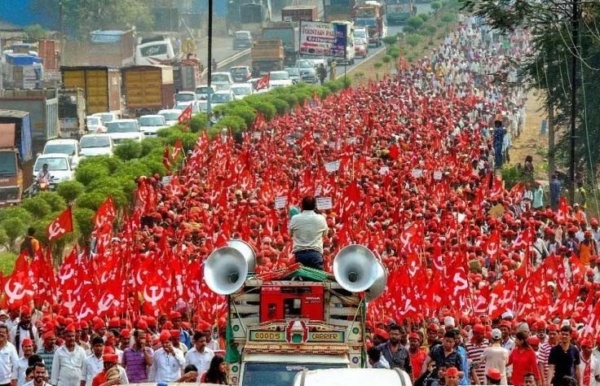 Mumbai: Maharashtra farmers call off protest after they reach an agreement with the government. CM Devendra Fadnavis has promised a written assurance, one of their demands, soon.
Meeting ends between farmers' representatives and CM-led ministerial committee arrived at an agreement.
In the meeting it was decided that Implementation of Forest Act to begin in two months.CM has promises relaxation of some of the conditions for loan waiver eligibility; ration cards to be issued to farmers immediately.Government claims almost all demands will be fulfilled.
The committee of minsters will coordinate with farmer leaders.
Over 35,000 farmers from across Maharashtra, who embarked on a 'Long March' from Nashik on March 6 to press their various demands, arrived at Azad Maidan early on Monday.
Apart from the Opposition parties, the Shiv Sena, a partner in the ruling Bharatiya Janata Party-led coalition, has also vocally supported the agitation.
The state government reached out to farmers, promising to meet their demands, but farmers' leaders said they will press on with the protest at Vidhan Bhavan on Monday.
More details awaited