Maharashtra celebrates 72nd I-Day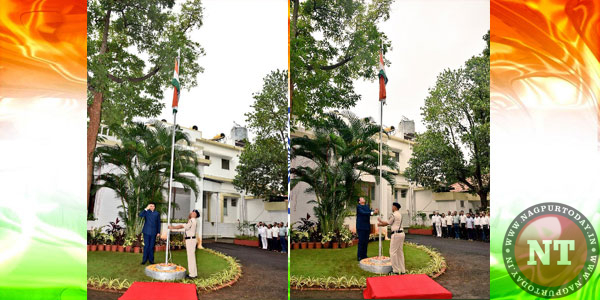 Maharashtra Chief Minister Devendra Fadnavis on Wednesday led the state's 72nd Independence Day celebrations by hoisting the Tricolour at his official residence here and later at the state government headquarters.
A large number of his cabinet colleagues, top civil and services officials and other dignitaries were present at the solemn ceremony.
Mumbai Mayor Vishwanath Mahadeshwar hoisted the flag at the BrihanMumbai Municipal Corporation (BMC) headquarters.
Ruling ally, Shiv Sena leader Shishir Shinde organised two midnight functions in Mumbai: The national flag was hoisted in Mulund by senior leader and actor Adesh Bandekar and in Ghatkopar, by a physically-challenged person.
Thousands of party workers and locals took part in the celebrations which continued till the early hours of Wednesday in both the suburbs.
Western Railway General Manager A.K. Gupta hoisted the flag and later flagged off a unique 30-bike rally of the Railway Protection Force (RPF) from Churchgate to Charni Road to highlight the theme of "Security of Women & Children".
Central Railway General Manager D.K. Sharma hoisted the flag, addressed a gathering of railway officials and staff and gave the green signal to the RPF's motorbike rally to popularise its helpline no. 182 for safety of women and children commuters and other passengers on its network.
The Opposition Maharashtra Congress President Ashok Chavan and Mumbai Congress President Sanjay Nirupam also organised functions at their respective offices here, hoisted the national flag and addressed gatherings of party workers and the members of the public.
The party called upon all to "cherish the feelings of liberty, tolerance and unity, not of bigotry or conquest" on the 72nd Independence Day.
The state Nationalist Congress Party (NCP) President Jayant Patil and Mumbai head Sachin Ahir hoisted the tricolor at the party headquarters in Mumbai.
In a message, national NCP President Sharad Pawar said: "India's plural diversity is our strength and let not anything divide the spirit of India."
In Nagpur, the Rashtriya Swayamsevak Sangh's (RSS) city chief Rajesh Loya organised a major function in which a large number of RSS workers, the general public, police and others joined.
Similar reports of celebrations were received from different parts of the city, including Pune, Aurangabad, Nagpur, Kolhapur and all the districts of the state.
Despite heavy overcast skies and showers in some areas, schools, colleges, universities, housing complexes, government and private companies, the Armed Forces and other organisations also conducted their own I-Day functions across Maharashtra with huge participation.
The state and city police had provided tight security to prevent any untoward incidents.