Maharashtra Assembly winter session begins in city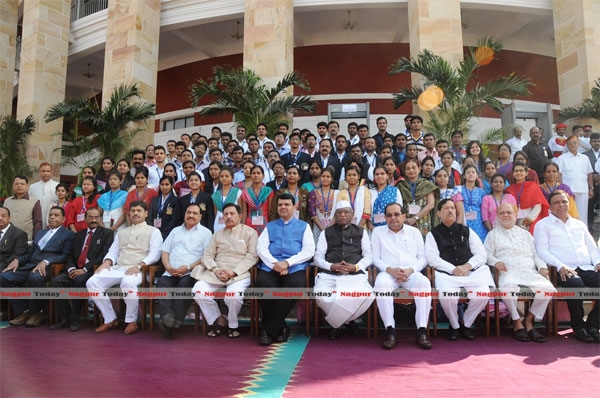 Nagpur: The Winter Session of the Maharashtra Legislature commenced on Monday (December 7) in the Second Capital City of Nagpur. The Chief Minister Devendra Fadnavis, who was among the first to arrive at Vidhan Bhavan, was received and welcomed by Minister of Parliamentary Affairs Girish Bapat at the gate of the sprawling building. Later, the Chief Minister straightaway went to the chambers of Assembly Speaker Haribhau Bagde and Legislative Council Chairman Ramraje Naik Nimbalkar and offered them bouquets. He spent some time with both the presiding officers and held animated discussions.
Unprecedented security arrangements have been put in place with a thick security blanket surrounding the Vidhan Bhavan and residential complexes and other important places in the city.
The two-week-long Session is likely to stormy with Opposition Congress and NCP geared up to corner the Fadnavis Government over a host of issues including the crisis being faced by the cotton, soybean and paddy growers, plight of the farmers suffering huge losses due to deficient rainfall and drought like situation in Vidarbha, Marathwada and other parts of the State. The contentious issues likely to be debated include the irrigation backlog of Vidarbha, farmers' suicides, remunerable prices for the farm produce, shortage of pulses and other essential commodities, Law and Order situation, load-shedding and increased power tariff, rising inflation as well as malnutrition and other health-related problems.
The leaders of Opposition parties have made their intentions clear when they boycotted the customary tea party hosted by the Chief Minister Devendra Fadnavis on the eve of the Winter Session on Sunday. The Congress has planned a massive morcha on Tuesday (December 8) to highlight an array of issues confronting the people in general and farmers in particular. The Congress has charged that the BJP-led Government has failed on all the fronts.
On the other hand, the BJP-Shiv Sena Government too has flexed its muscles to blunt the onslaught of the Opposition and is likely to highlight various measures it has taken for welfare of people and relief to distressed farmers.
Rajeev Ranjan Kushwaha ( [email protected] )