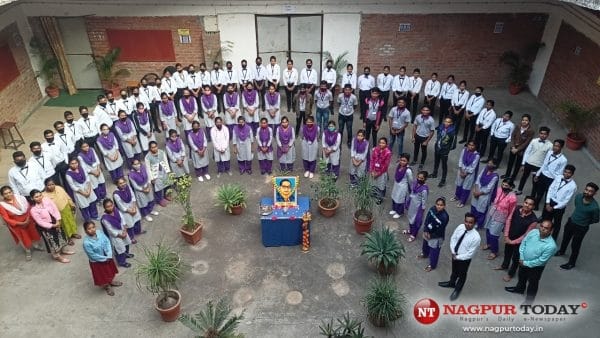 Nagpur- The 65th Death Anniversary of Dr. Babasaheb Ambedkar was observed as "Mahaparinirwan Diwas" by Central India Group of Institutions functioning under the ageis of Mehmuda Shikshan Mahila Gramin Vikas Bahuddeshiya Sanstha's Nagpur in its College Campus at Godhani today.
Rich tributes were paid to Dr. Babasaheb Ambedkar on this day by all students and the staff. Dr. S.M. Rajan, Director of Central India College of Law, Tushar Meshram, Director, DDUJKY, Dr. Yasmin Siddiqui, Principal of Central India Adhyapak Mahavidyalaya, Dr. Swati Raut, Principal of Central India College of Education and Dr. Seema Chikle, Principal of Central India Women's College of Education, B.Ed. (SNDT) College were prominently present on the occasion.
Remembering Dr. Ambedkar on his Mahaparinirwa Diwas, Dr. Rajan in his address said that Dr. Ambedkar's devotion towards the Country and his pursuit for equality is a message for the entire world that birth or caste does not determine one's life. Dr. Yasmin Siddiqui said that Dr. Ambedkar will forever live in our hearts and minds as his life's work of upliftment of the downtrodden and equality itself in our country every day. Dr. Swati Raut stated that Dr. Ambedkar played an important role on secular education and social emancipation Dr. Seema Chikle said that Dr. Ambedkar did not believe in social reform on the basis of humanitarianism, sympathy, philanthropy etc. as equal status and just treatment was a matter of right and not pity.
The programme was conducted by Prof. Bansod and vote of thanks was proposed by Prof. Anvita Telang. Large number of students and staff were present on the occasion including Prof. Shabana Anjum, Pof. Rekha Kale, Prof. Sharda Thakre, Ashish Kubade and Swapnil Nistane.