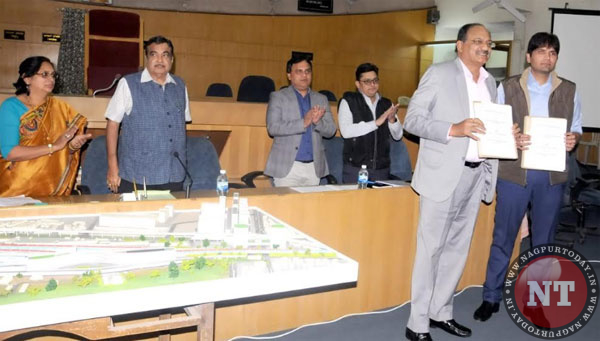 Nagpur : Orange City is set for a new look with some of its prime properties getting ready for re-development. The vintage edifices of the yesteryears would now pave way for state-of-the-art structures. Nagpur's old constructions – Cotton Market, Santra & Khowa Market, Gol Bazar and Netaji Market would be soon be redeveloped.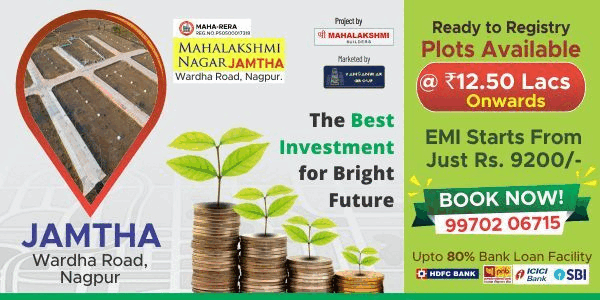 A Memorandum-of-Understanding (MoU) to that effect was signed between Maha Metro Nagpur and Nagpur Municipal Corporation (NMC) at Town Hall, Mahal, today. The MoU was signed by Maha Metro MD Dr Brijesh Dixit and Municipal Commissioner Shri Abhijeet Bangar in presence of Union Transport Minister Shri Nitin Gadkari and City Mayor Smt Nanda Jichkar. City MLAs, Krishna Khopde, DR Milind Mane, Vikas Kumbhare, NG Ganar, president of Small Scale Industries Corporation Sandip Joshi of the city were present during signing of MoU.
Of the three – Cotton Market is oldest and one of biggest vegetable market of city. It once, had been point for procurement of cotton. The Market got its name from the large number of cotton traders who would come there from all corners. Though an open building in 1901, a structure was erected there in 1928 at a cost of Rs 30,000. The present structure pertains to the year 1969
Similarly, Tularam Sakhre Gol Bazar is located at Gaddigodam and was established in 1931. Gol Bazar derives its name from its shape – it is round in nature and has multiple entries. It was set up in pre-independence era and today houses a number of shops. Netaji Market – a commercial hub located in area of Sitabuldi houses vegetable and flower market, besides hosting a range of shops. Initially it housed vegetable sellers; today it is known as flower market
The NMC general body had passed resolution for redevelopment of all the localities. Cotton Market, Santra & Khowa Market collectively span an area of 70,424.63 square meters. Gol Bazar, Gaddigodam is spread over an area of 6,289.90 square meters, while Netaji Market covers an area of 7,393.40 square meters.
As per MoU signed, NMC will hand over land to Metro well in time for joint development of project. The ownership of the land shall be with NMC. Metro would be responsible for resettlement of existing allotees and NMC shall provide all possible assistance for the same. Land required for temporary relocation of existing allotees of NMC shall be provided by NMC. As per the joint development initiative, land will belong to NMC and development will be done by Maha Metro.
Considering performance of Maha Metro Nagpur, it has already been assigned some of city's major projects, including development of Metro Mall near JP Nagar Station as part of Orange City Street Project, the Road opposite Railway Station and Futala.
With work on Nagpur Metro Project going on a rapid pace, Metro is contributing substantially towards city's development. And property development at these three prime locations will boost economic development and promote employment opportunities, besides change skyline of the city.