Lucky escape for bystanders as speeding truck tumbles down near Chhatrapati Square in city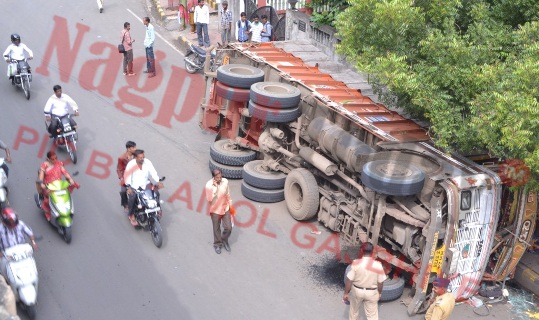 Nagpur News.
A could-be-proved-fatal road accident turned the routine incident when 5-6 people, standing on the footpath, left the spot in the nick of the time.
According to police, an overloaded truck (MH-34/J 5773), reckless driven by Suresh Godiram Badne, (34), a native of latur, suddenly turned half-side down and got dragged like a fire-spitting dragon with great speed and roaring sound. The nearby people shuddered to think what would have happened had the people standing at the spot. However, fortunately, nobody was injured in the accident. The accident could have proved fatal for at least 5-6 people who were standing on the footpath exactly where the turned half-side down and got dragged to a long distance, some eye witnesses said. The truck was proceeding towards Wardha.