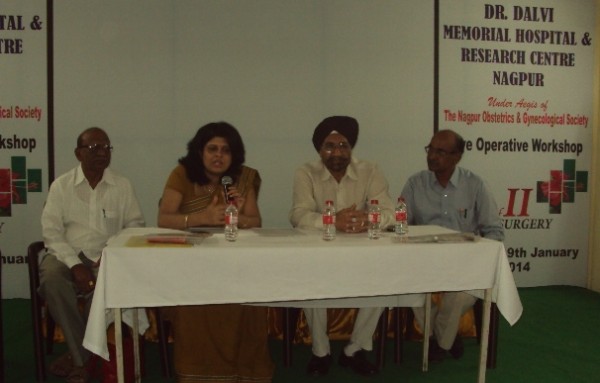 Nagpur News.
A live operative workshop on "Pearls of Vaginal Surgery"  has been organized at Dr. Dalvi Memorial Hospital & Research Centre, Central Avenue, Nagpur on Sunday (January 19).  Renowned doctors namely Dr. Dipesh Dholakia from Ahmedabad, Dr Manju Rathi, Ujjain, and Dr. Ashish Kubde of Nagpur are among the prominent surgeons from all over India going to operate on different patients and showing different techniques of performing Vaginal Hysterectomy.
Balbir Singh Renu, President of the Executive Committee of Dr. Dalvi Memorial Hospital & Research Centre, while addressing the media, informed that 8 live surgeries will be demonstrated in the workshop. And around 400 delegates from Nagpur, Chandrapur, Gondia and from all over India would attend the workshop.
In Hysterectomy surgeries, there are no scars, stitches and the patient has a very instant recovery after operation. The operation cost is also very nominal, informed Dr. Rachita Pahurkar, Organizing Secretary. She further stated that Hysterectomy technique has been coming in use for the past 4-5 years. Earlier, Laparoscopy was quite prevalent method. Now, operation techniques are changing and doctors should be updated about it, Dr Pahurkar said.
Speaking in the press conference, Dr.Ashish Kubde explained Hysterectomy is the surgical removal of the uterus, with or without the removal of the ovaries. He informed that patients from rural areas will also be operated here. He further added that cervical cancer is quite prevalent and patients, if diagnosed with cancer, go for this surgery. About 30 per cent of patients go for these procedures.
Dr Dipesh Dholakia, one of the renowned surgeons in the world, who has operated about 5000 such surgeries, will be demonstrating the surgery to the delegates.
Justice Pratap Hardas of Bombay High Court will be the chief guest for the workshop.
Prominently present during the press conference include Balbir Singh Renu, Subhash Gotmare, Purushottam Ghatore, Pradeep Khanorkar, Dr . Ashish Kubde and  Dr. Rachita Pahulakar.