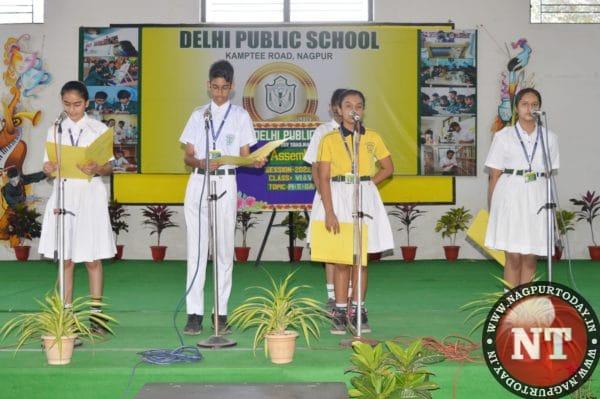 On March 14, students from Grades VI and VII at Delhi Public School Kamptee Road, Nagpur gathered to celebrate Pi Day, an annual event that honors the mathematical constant π. Pi Day is celebrated on this date because 3, 1, and 4 are the first three significant figures of pi, which is equal to 3.14. The day is typically marked by eating pie and holding pi recitation competitions. Pi Day was first celebrated in 1988 by physicist Larry Shaw at the San Francisco Exploratorium. Since then, it has become a popular celebration of mathematics in schools, museums, and communities around the world.
The students put on a skit that highlighted the significance of Pi Day, showcasing their talents and creativity. They also recited an inspirational poem about pi, written by Rachel Mac, with one student delivering it confidently. The enthusiastic mathematicians educated their peers on the importance of Pi as it has many applications in mathematics, science, and engineering. It is used to calculate the circumference and area of circles, as well as in trigonometry, calculus, and statistics.
The assembly concluded with a speech by the school's Principal, Ms. Ritu Sharma. She encouraged the students to strive for overall improvement. She emphasized the importance of hard work, dedication, and a positive attitude, and urged the students to set goals and work towards achieving them. Ms. Sharma's words resonated with the students, leaving them inspired and motivated to continue learning and growing.