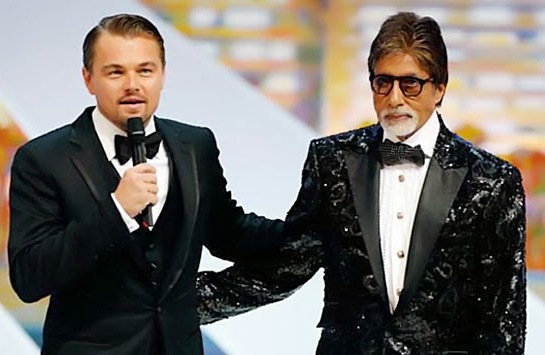 The Titanic heartthrob Leonardo DiCaprio has developed attraction towards Bollywood's mega star Amitabh Bachchan right since they worked together in Baz Luhrmann's 'The Great Gatsby'. Though Bachchan played cameo in the movie in which he shared screen space with DiCaprio in one of the scenes, the performance of Bachchan clearly influenced the Hollywood chap. So much so that the star now wants to pair up again with Big B.
In a statement DiCaprio admits this fact, "Mr Bachchan impressed me immensely by not just his talent and his ability to act, but what a gentleman he was. I was honoured to work with him. It was great seeing that enthusiasm he brings to even the smallest of roles and I would love to work with him in the future."
The duo together inaugurated the Cannes Film Festival last year, where 'The Great Gatsby' was the opening film. DiCaprio, 39, latest release is 'The Wolf of Wall Street' for which he won the Golden Globe for the best actor.