Leadership and Personality Development programme to be held for Tablers of city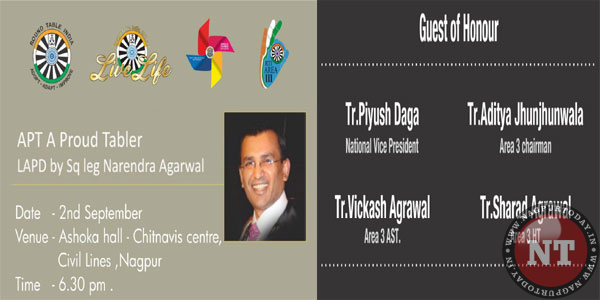 Nagpur: Many believe and claim that leadership is an innate ability. However, leadership is an ability/skill that can be inculcated, developed or nurtured. An efficient leader is one who is able to clearly and succinctly explain to employees/team members everything from organizational goals to specific tasks. Concepts like Motivation, Communication skills, Delegation, Positivity, Creativity, Feedback, Responsibility etc. has to be learnt or inculcated for becoming good leaders.Whether one is an office manager or a project leader, all good leaders require a number of soft skills to help them positively interact with employees or team members.
Realizing the need for good leadership skills and the need for feeling of belongingness and the pride of being an integral part of Round Table, a Leadership and Personality DevelopmentProgramme is being organized on September 2, 2018. Once the feeling of pride is induced or developed in team members, then they tend to be self-motivated, self-driven to achieve the goals, aims and objects of the Organization. (Round Table India)
Narender Agarwal, Charter Chairman of Ludhiana Round Table 188 and Round Table India National Facilitator has been invited to Nagpur to conduct a Leadership and Personality Development Event called "A Proud Tabler".
The event is being organized by Round Table India (Area III) for its members in Nagpur. The event is slated to be held on September 2, 2018 at Chitnavis Centre. National Vice President of Round Table India LMF Tabler Piyush Daga, Area III Chairman Tabler Aditya Jhunjhunwala and Area Honorary TablerSharadAgrawal will be prominently present.
Round Table is an international social and charitable service organization with the object of development of fellowship of young men through the medium of their business, professional occupations and community service activities, providing encouragement to active and responsible citizenship by cultivating the highest ideals in business, professional and civic traditions, promoting international understanding, friendship and cooperation, along with the extension of the association.Round Table India is an organization of young persons between the age group of 18 years to 40 years, who work towards the education of underprivileged children.
Till date, 6189 classrooms have been built across India in 2588 projects, impacting 6.8 million children.
The members of Four Tables of Round Tables in Nagpur city including Nagpur Round Table 83, Nagpur Aurthurs Round Table 180, Nagpur Spirits Round Table 258 and Nagpur Tigers Round Table 299 will be participating in this Leadership and Personality Development Programme.