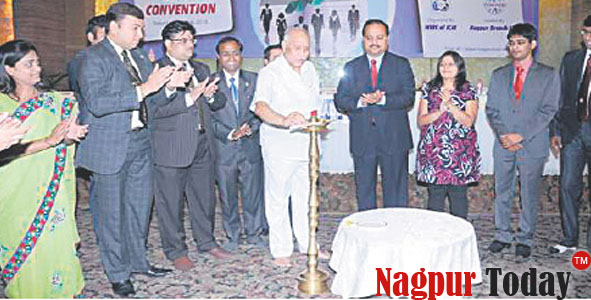 Nagpur News: "LBT is a complicated tax brought in by the State government which is facing strong opposition from the traders" said Nagpur MP Vilas Muttemwar while speaking as the chief guest at All Maharashtra Tax Convention, organised by WIRC of ICAI and hosted by Nagpur branch of WIRC of ICAI here on Saturday.
Muttemwar on this occasion further said. "for growth of Maharashtra, government shall take care of interest of traders and that of small and medium businessmen also.
Mihan is also taking up speed which will change the face of Nagpur.
LBT should not be hindrance to the growth of Nagpur in particular and Maharashtra in general. Chartered accountants shall guide public at large over LBT and related issues so that they can overcome their problems. CAs shall guide their clients for betterment of society.
He appreciated Nagpur branch of ICAI for organising such a programme which is need of the hour for public at large.
With awareness about CA profession now students are more interested towards commerce, especially chartered accountancy.
He requested Institute to come forward with valuable suggestions to the government along with concent paper on specified subject , he further opined.
Chairman WIRC CA. Mangesh Kinare in his address said that transformation is a continuous process with a bottom to top approach.
There are many new professional avenues available, one needs to keep oneself updated to grab the same. He further asked to take up social projects as society has high expectation from their profession. He urged new members to go for specialization since this is the era of specialization and they can join specialized courses organized by ICAI.
Vice chairman Parag Rawal, secretary Neel Majithia and treasurer Priti Savla also addressed the gathering
Regional council member Zulfesh Shah in his remarks congratulated Nagpur branch for hosting this All Maharashtra Tax Convention very successfully with around 500 participants.
He informed about the various initiative taken by WIRC of ICAI. He further said that to strengthen small and medium practitioners, various programmes will be organized.
Earlier chairman of Nagpur branch Swapnil Agrawal in his welcome address said in today's fast changing world one needs to keep oneself updated about recent amendments in professional area of interest. As chartered accountants expectation of society from CAs is tremendous and one needs to develop professional area of practice on continuous basis.
Laws are ever changing and so are the expectations of stake holders. Seminars and conventions like this provide first hand knowledge about recent updates and are good source of information and networking. In the first technical session eminent faculty from Mumbai Bakul Modi presented the paper on Service Tax – Recent Amendments. In the second technical session CA. Rajat Talati, from Mumbai presented paper on taxation of works contract and Dilip Phadke from Mumbai presented a paper on Intricacies Involved in Local Body Tax (LBT).
All the speakers answered various queries of the participants in most effective manner. CPE chairman Umang Agrawal co-ordinated the proceedings. Ashwini Agrawal introduced the chief guest, Secretary of the branch, Kirti Agrawal proposed a vote of thanks.
Among those present on the occasion included Swapnil Ghate, Sandeep Jotwani, Kirit Kalyani, and others. MP Vilas Muttemwar, inaugurating the All Maharashtra Tax Convention convention by lighting the auspicious lamp. Kirti Agrawal, Ashwini Agrawal, Zulfesh Shah, Swapnil Agrawal, Neel Majithia, Mangesh Kinare, Priti Savla, Umang Agrawal and Swapnil Ghate look on.