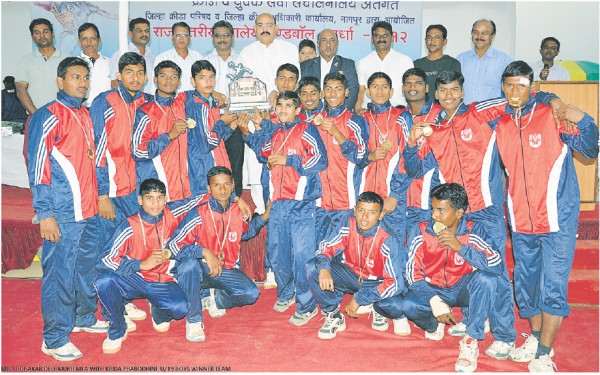 Nagpur Sports News: The Under-19 State Inter-School handball Championship that was sponsored by NIT and which was jointly organised by District Sports Office and District Sports Council at Divisional Sports Complex, Mankapur saw a match that truly lived up to the grand occasion. Krida Prabodhini, Nagpur boys clinched under-19 title on the last day of the tournament in style  on Friday.
In the final, Krida Prabodhini defeated Aurangabad 27-17 which was a one sided affair. Vishal Made  was the highest scorer with a tally of  nine goals for winning team and he was ably supported by Tushar Kirpal and Ravi Dhakne who netted six each.  The team from Kolhapur division managed to take the third place as they went on to defeat the team from  Pune division .
In the under-17 boys section, Kolhapur division represented by Maharashtra High School recorded sensational one point (30-29) victory over Nashik division. Vishwajeet Mane scored highest 16 goals for the winning team. Ajinkya Patil (7) and Akshay Hardude ( 6)) also played well. For Nashik, Naresh Choudhary (12) and Pramod Pawar (6) tried their best but missed the bus by just one point.
In the girls section, Nashik downed Kolhapur 14-5. Nagpur finished third defeating Pune 10-9 in a close battle. Yasmin Khan scored four goals while Tajaswini Gaikwad and Namrata Chavan netted three goals each for winning team.
Mumbai division won under-19 girls title defeating Nashik 17-8.
West Nagpur MLA Sudhakar Deshmukh was the chief guest of prize distribution function. Secretary of Maharashtra Handball Association Prof. Ashok Rajput, Shiv Chhatrapati awardee Girish Gadge, Dr Sunil Bhotmange, deputy director of sports Dr Jaiprakash Duble and DSO Subhash Gangreddiwar also shared the dais.
Dilip Itankar and Dr Ram Thakur conducted the procedings while Gangreddiwar proposed a vote of thanks.