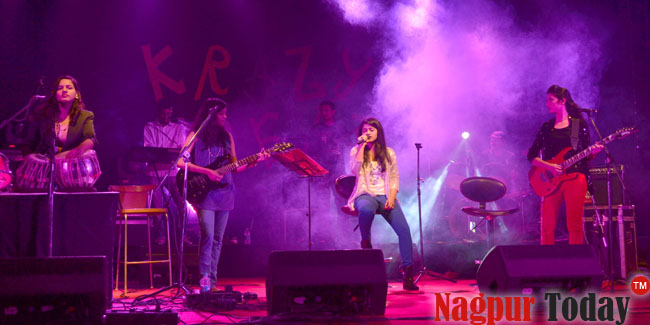 Nagpur News:
Krazy Beats, the first all women musical band from Vidarbha made its debut performance today at Dr. Despande Hall with a bang. Audience were taken by storm with live wire performance of Kanaka, Pallavi, Neha, Poornima and Dhanshree the acclaimed talent of the band.
The Young talented team performed latest music, fusion and few of their self composed songs. Kanaka is a daughter of Dr. Datta Harkare while Pallavi is a daughter of MLA Sunil Kedar.
Two young lads of Nagpur, Kanaka & Pallavi, have jointly started  this musical band called "Krazy Beats."  Kanaka, who is a trained and ace singer has participated in popular shows like "Kajrare," " Sur Naye Geet Naye," "Geet Swarna," "Ga Mere Man Ga & in Indian Idol, too.
She has also performed in Texas, Chicago & Mississippi in the United State and has sung with celebrity singers like Shridhar Fadke and Milind Ingale .
Pallavi is an upcoming artist and also a guitar player.
The crowd thundered "Once More" for few songs Kanaka sung like her classical "Jugalbandi," Tu hi re, Pani Da, Teri Deewani and specially their dedication song  for the "Prakash "Band of Kashmir  .
Bussinessman Praful Vaidya said, "It was rocking, loved the performances.".
Rockstar Subodh Sathe said "It's a great initiative, I congratulate the band and wish them the best ".
Poornima Kedar hosted the event in an artistic way.