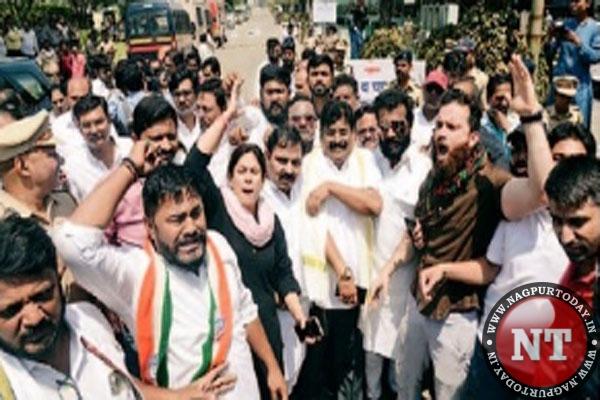 Nagpur: The environment public hearing held on Monday in Koradi regarding the proposed Koradi 2×660 MW Coal-based Super Critical Thermal Power Plant witnessed a clash of opinions between opposing political parties and supporters of the project. While the chiefs of 13 villages near the existing thermal power plant expressed their support for the proposed plant, opposition parties created a ruckus during the hearing.
District Collector Dr Vipin Itankar presided over the meeting, which also included A M Kare, Regional Officer of the Maharashtra Pollution Control Board (MPCB), and Umakant Bahadule, Sub-Regional Officer (Nagpur Urban) of MPCB. However, the event turned noisy on several occasions due to the disruptions caused by workers of the Congress party, who accused mismanagement during the proceedings.
Vishal Muttemwar, Congress General Secretary, questioned the decision to close six units of MahaGenco throughout the state and relocate 2×660 MW units in Koradi. He also highlighted the fact that MahaGenco currently utilizes fresh water from the Pench River for its existing plant, contrasting with the company's claim that sewage-treated water from the Nagpur Municipal Corporation (NMC) will be used for the new plants.
Congress MLA Vikas Thakre raised concerns about fly ash utilization by MahaGenco in the existing thermal power plant at Koradi. Joining the Congress party, both the Shiv Sena (UBT) and the Aam Aadmi Party (AAP) also expressed opposition to the project during the public hearing.
Several environmental activists, including Leena Buddhe, Anasuya Kale Chhabrani, Sudhir Paliwal, and Dinesh Naidu, presented studies and reports on the environmental impact of thermal power plants in Koradi and Khaperkheda. They appealed to the MPCB to reject permission for the proposed project in the interest of the city. The opposition parties have turned the entire matter into a political agenda, while the ruling party remains supportive of the proposed plant.
Amidst the opposition and support, villagers expressed confusion during the public hearing and demanded employment opportunities, despite the meeting being primarily focused on environmental conservation. The MPCB assured the villagers that the minutes of the meeting would be forwarded to the Ministry of Environment Forest and Climate Change (MoEF&CC) for further decision-making on the proposed project.
The District Collector reassured everyone that the administration is genuinely concerned about Nagpur's environment and that decisions will be made in the best interest of the city.