'Kojagiri Pournima' brings hope & cure too for Asthma patients in a special way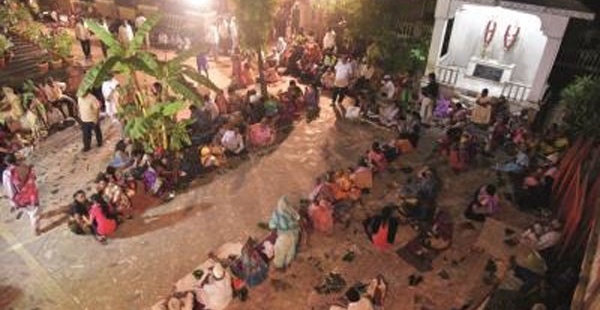 Nagpur: As the full moon started appearing in the horizon on 'Kojagiri Pournima,' the famous Shri Poddareshwar Ram Mandir in the city witnessed a steady flow of people thronging its premises. For a reason. Most of the people – children, women and men of all age – gathered at the temple premises were the patients […]

Nagpur: As the full moon started appearing in the horizon on 'Kojagiri Pournima,' the famous Shri Poddareshwar Ram Mandir in the city witnessed a steady flow of people thronging its premises. For a reason. Most of the people – children, women and men of all age – gathered at the temple premises were the patients of chronic Asthma and were hopeful of curing their lung disease with a 'special' medicine. A specially prepared medicinal 'Kheer.'
The ingredients of this special medicine for Asthma cure are rice and cow milk kheer mixed with a powder of 'jadibuti' (herbs) and the rays of 'Sharad Pournima' moon.
Distribution of the special medicinal 'Kheer' prepared of milk and rice among Asthma patients is the tradition of Shri Poddareshwar Ram Mandir since the past 90 years. This year too, a number of asthma patients including from far-flung areas such as Mumbai, Nanded, Aurangabad, Akola and other places congregated at the mandir premises all with hope of curing their ailment. For the special medicine, the cow milk and rice 'Kheer' is cooked in earthen pot. The temple management started preparing the 'medicine' from 2 pm. By 6 pm, the hopeful patients of asthma started lining up at the temple. Such was the rush that the line touched the far away Mayo Hospital Square.
Initially, the local patients were distributed with the 'Kheer' on banana tree leaves who took it to their homes, allowed the rays of full moon to fall onto it and consumed the 'medicine' for hope and cure of asthma.
As the locals dispersed, the patients from outstation started gathering at the temple premises in large numbers. They were first provided with banana tree leaves. Later all were distributed with the 'special medicinal Kheer.' As it was not possible for the outstation patients to return to their homes, they were allowed to stay in the mandir premises and keep the medicine open in the light of the full moon and wait for the stroke of 4 am. As the moment arrived, the asthma patients consumed the special 'Kheer' in the company of Lord Ram for His blessings and cure of their ailment.
The special medicinal Kheer is distributed once in a year on Kojagiri Pounima. The mandir management in the watchful eyes of Trustee Punit Poddar makes elaborate arrangements for convenience of the Asthma patients thronging the temple in the hope of cure. Around 400 'Sevadhari' (volunteers) ensured no patient is inconvenienced during the special medicine distribution.
'Kojagiri Pournima' also popular as 'Sharad Poornima', 'Kojagara' or 'Kumar Purnima' in various parts of the country, is basically a harvest festival. Goddess Mahalaxmi, a symbol of prosperity is worshipped on this day. The day brings together two major aspects in the lives of farmers prosperity through good harvests and spiritual blessings from a divine power which oversees all human achievement and endeavour.
There is a popular belief that on this day, the Moon showers Amrit (elixir of life) upon people as it comes closer to the Earth. Moon rays have certain healing properties of nourishing the body and the soul. This is the reason, in Ayurveda, 'Sharad Pournima' is considered as an effective night to give medicines to those suffering from chronic diseases like Asthma.