With proliferation of IT companies and angel investors, the concept of Start up companies started many years ago. Entrepreneurship has become glamorous and youngsters are thronging behind finding "the next big idea". They open companies which are fondly called startups and try to pursue their dream idea. Now, this trend has break the barrier of IT industry and other business ideas are also being supported by incubators, initiators and anger investors.One such idea by the young entrepreneurs Manish Khanchandani and Sagar Bhajani was mentored and supported by Nagpur's own "Lemon Ideas" and brought to life as "Khichdiwala", an Indian Fast Food restaurant which has massive potential of Horizontal scalability.Having given this background, let's get back to reviewing the restaurant and the food.
Location:
"Khichadiwala" is a "Khichadi" only restaurant situated at G-14, Gayatri Nagar, Near IT park, Nagpur – 440022. If you take the the road between Infotech Tower and STPI office which is opposite VNIIT gate, you will find this restaurant on right side. The location is good and parking is available on the road.
Ambience:
The concept outlet is uniquely designed keeping earthen and local flavour in mind. It uses Warali painting on the wall and a creatively designed hanging piece using Matakas. It is a small outlet with 3-4 tables but can be extended upstairs in future. The feel is nice and casual. However, they need to install cooling systems like AC or air coolers soon as Nagpur summer can make the experience in day time to be unbearable.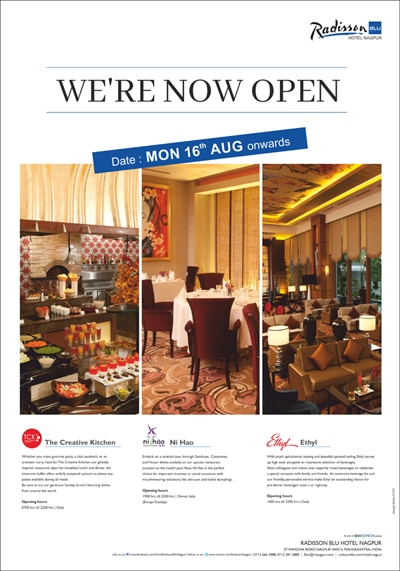 Menu:
Khichadiwala offers a short and sweet menu which is offers different variety of Khichadi's like Masala Khichadi, Garlic Khichadi, Mix Veg and Daal Khichadi. In their quest for re-inventing the khichadi, they also have created their own unique Italian Khichadi and Saoji Khichadi variety. Apart from these, they also have Sabudana Khichadi and Curd Rice.
The Menu has Mini Meal, Meal Pack, and combos for each type of Khichadi. Few add ons like Garlic Tadka and beverages like Wellness shot are also on the menu along with others.
Taste:
The khichadi is served in a biodegradable bowl and comes with a piece of papad and pickle. The pickle was hard to pick and use. I would like to see more convenient way to serve it and would request for at least 1 full papad or 2 along with the Khichadi as the given piece does not last through the whole quantity of Khichadi. But then may be they want us to order it as add on.
Taste of the various Khichadi's is satiating. I tried any types but liked the Italian Khichadi and Garlic Khichadi more. There are many outlets in Nagpur which are famous for their Khichadi offering and many may feel that these Khichadi needs to catch up with them in taste. Having said that, I will recommend it because even if it is not great, it is good.
Service:
It took a long time for them to serve my order. I was surprised because they are positioning it as a fast food. When asked about it, the owners gave reasons of absent man power, etc. Still they tried to attend us with full earnestness. But I did not get the experience of "Fast Food".
Ticket Size:
It is a very well priced healthy fast food outlet where you can eat for as low as 40 rs to 150 rs per head. It is a very good option to have light meal.
Overall, I recommend this unique concept Indian Fast Food outlet for its tasty and healthy "Khichadis". Before going, make up your mind that you are going specially to Khichadi Only restaurant and you can enjoy it more.
Sagar Bhajani – A creative mind, enjoys travelling and his never ending passion for entrepreneurship made KhichadiwalaTM possible. Worked in IT industry for almost three years and quit due to monotonous lifestyle. An engineer and a freelance graphics designer loves trance and is a huge car enthusiast.
Manish Khanchandani – A cheerful young gun who possesses great business skills. Presently, pursuing his MBA, he has courageously rejected many placement opportunities to follow his heart. All the delicious dishes are a resultant of his research, formulation and perfection of the multitude of flavors he has discovered during his gastronomical experiments and adventures.
Khichadiwala the concept originated from a medical brain, our friend Juhi Mallick. Due to her professional engagements she could not join us in this fascinating entrepreneur journey.
Khichadiwala envisages on becoming a popular name in the fast food industry with its unique taste and health benefits. We at Khichadiwala strive to serve the customer delicious food prepared with fresh ingredients under hygienic conditions. We aim to make khichadi a prevalent fast food as it has no harmful preservatives unlike other options available in the market.
:: Prashen H Kyawal 
:: Picture by Sudarshan Kshirsagar