Kejriwal talks of development of all in the country with power in hand at Nagpur fund raising meet

Nagpur News.
A hordes of socialite and known faces from the city's mainstream gathered up at Hotel Tuli International on Thursday night to consolidate their support for Aam Aadmi Party chief Arvind Kejriwal's call for 'donation through dinner' to help AAP foot election expenses. More than 100 people got into interactive session with Kejriwal followed by dinner specially organized as part of AAP's fund raising exercise. Interestingly, AAP's local contestant Anjali Damania reached the venue little late that raised the eyebrows of the dignitaries present at the do. The guests list include VIA President Dipen Agrawal, Sanjay Arora and many other businessmen across various fields.
The donors went out of way in their speech and extended fully fledged support in monetary terms to help AAP strengthen roots for upcoming Lok Sabha polls.  One of the businessmen, who runs a chain of mobile stores pledged for donating Rs 20 lakh in a month for the purpose.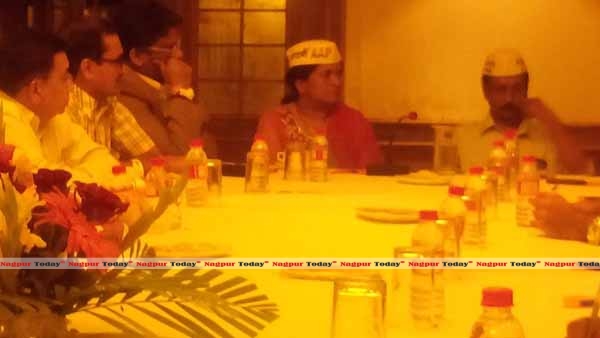 The topic of discussions in the interactive session varied from reservation, whistle blowing to even more relevant issues of granting statehood to Vidarbha.
A guest from Japan made many heads turn when he posed the question regarding reservation before Kejriwal. The AAP chief critically replied that his motto was always granting reservation to one person in each family.
Replying to one of the questions raised during interaction with the guests, Kejriwal reiterated that his biggest election agenda was to make government schools on par with the private schools or even better than them.
Vijay Pande who shot to fame after he blew the lid off state's irrigation scam asked whether Vidarbha should be separated from Maharashtra, on which Kejriwal replied to the whisteblower, "97% people have voted for Vidarbha as separate state in the recently held referendum and if public wants it then we are with the public."
He also added while speaking with Devendra Parekh ( President VED ) that Congress is not letting Vidarbha while NCP wants the same, Devendra Parekh requested Kejriwal to add Vidharbha to their manifesto.
On query to Naxal activities he said is an economical issue.
At the time of filling this news , Kejriwal was still speaking to guest at the venue..
:: Manohar Roy