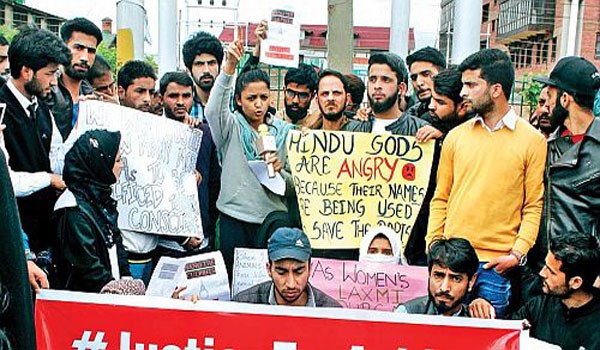 Srinagar: The campaign for justice for the eight-year-old victim of Kathua rape and murder case is gaining momentum across Kashmir with students and people holding protest marches across the length and breadth of the valley today, giving police a tough time. Students of various educational institutions took out a protest rally on Residency Road in Srinagar, demanding justice for the girl and stern punishment to those involved in the heinous crime that has sparked outrage across the nation.
A group of lawyers, civil society members and people from other walks of life also held a protest rally at Pratap Park, demanding death penalty for the persons involved in the rape and murder of the minor girl in January this year.
They also demanded setting up of a fast-track court for speedy delivery of justice in the case. A massive rally was taken out by students in Uri town — near the Line of Control — in Baramulla district in support of the victim, reports said.
Similar protests were held in the Tral area of Pulwama district where police used batons and tear smoke shells to disperse the students. Official sources said several students were hurt in the police action. Students held protests in Anantnag, Baramulla, Awantipora and other parts of the valley as well.
The protestors accused the police of using force at some places to quell protests, a charge denied by the police. A police spokesman said some miscreants indulged in stone-pelting to enforce a shutdown in Anantnag town.
"In the said incident, two police personnel and two miscreants received injuries when they were hit by stones. All of them are stated to be stable," he said. He said personnel of municipal committee were pelted with stones during an anti-encroachment drive in Pulwama.
"However, the police party reached the spot and subsequently dispersed the miscreants. No loss was reported," the spokesman added. He said miscreants tried to block the main road at Awanitpora but due to the timely intervention of police, the situation was handled and no street vandalism could take place.
"It is clarified that situation has been brought under control in all these locations," the spokesman said. The campaign for justice for the victim is gaining momentum every passing day with people adopting novel methods of protest.
Many passenger vehicles, including autorickshaws, have put up placards in front of the windscreens, demanding justice for the victim girl. A large number of private cars and motorcycles also have posters, making the same demand. Business establishments have also put up similar placards on their premises.
In the virtual world, an online petition to Jammu and Kashmir Chief Minister Mehbooba Mufti was started last month to demand justice for the victim.
"Big thank you to all! We are over 1.6 million. This is our silver lining. There are more people who are willing to side with justice than with hate. We, women from J&K, had started a petition to @MehboobaMufti over one month ago seeking Justice for the vicitm of Kathua case," JNU scholar Shehla Rashid said in a post on social networking site.
"It has gone on to become the biggest ever Indian petition on change.org, with over 15 lakh signatures!!" she added. The demand for justice can be seen on thousands of Facebook pages, in whatsapp messages and statuses and in tweets as well.
The police spokesman further said they request citizens not to fall prey to any speculations and rumours which are intended to disturb peace in the state. we seek their cooperation for maintaining law and order, he added.