Kashmir: 2 cops-turned-terrorists gunned down in encounter in Doda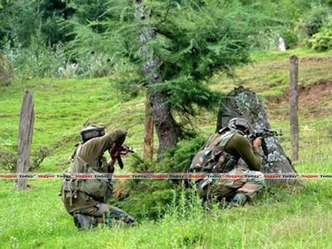 Srinagar/ Nagpur: Two cops, as special police officers (SPOs), who were recruited in J&K police force last month, left the police force and became terrorists, were gunned down in an encounter with Army in Doda district, witnessing an encounter after a gap of about four years in the district, said the media reports, adding that the terrorist activities in this district are reduced to almost naught.
According to S N Acharya, PRO in Defence Department, the Army jawans, on the basis of secret information, launched a midnight operation in far off Doda belt. The encounter from both sides ended at about 4.30 am of Thursday, and two terrorists were gunned down. Their bodies have been recovered by Army and also recovered from them included one AK strike rifle, one INSAS rifle and some explosives. Further details are awaited, he added.
Confirming the assertion of Defence PRO, Jammu South Zone IG Danish Rana informed, the gunned down terrorists had left the J&K police force last month and became terrorists, The police have identified them as Gulam Nabi Manganu alias Maulavi and Riyaz Ahmed.
It is reported that Maulavi was earlier district commander of Lashkar-e-Tyeba and he had surrendered before police in year 2010. Later on however he was recruited in police force as SPO (special police officer). Riyaz was a terrorist of Hijbul Mujahidin and he too had surrendered in year 2010, he was also made SPO.
According to officers, Maulavi joined Lashkar-e-Tyeba in year 2003 while Riyaz joined Hijbul Mujahidin in year 1999. Both the outlaws had stolen one Ak rifle with 60 bullets, one INSAS rifle with 70 bullets from the custody of police force on the nights of September 6 and 7, 2015 and joined terrorist camps.
IG Rana said, the J&K police was keeping a watch on them, and both of them were gunned down during an encounter at Garhi Nullah. According to him, in an encounter with terrorists in June 2011 two terrorists of Lashkar-e-Tyeba were gunned down in Doda district, and it remained peaceful since then, for four years.