Kasganj police chief's stunning revelation, says ANI journalist reported fake news on threats to Chandan's father

Kasganj: The senior most police official of the communally sensitive Kasganj has sensationally revealed that the news flashed by the ANI on Thursday night stating threats to Chandan Gupta's father was fake.
The Superintendent of Police in Kasganj, Piyush Srivastava, told reporters that he had conveyed his displeasure to the senior functionaries of the ANI in Delhi on the matter.
He said, "I want to tell you that there's a media channel called ANI. An individual from that channel carried a news without taking the official version from us. I would like to request you that whenever you run any news (related to Kasganj), please also carry our official version. I've spoken to their superiors in Delhi headquarter on this matter asking them to take action against him. We've also filed a report against him so that such episodes are not repeated."
Update : कासगंज पुलिस के SP का कहना है कि उन्होंने दिल्ली के न्यूज़ एजेंसी के संपादक से स्थानीय पत्रकार के खिलाफ कार्यवाही करने को कहा। कासगंज पुलिस इस घटना से संबंधित रिपोर्ट भेजेगी। https://t.co/GzFaCKI8Wd

— ASHUTOSH MISHRA (@ashu3page) February 2, 2018
Update : यह भी जानकारी में आया है कुछ मैनीपुलेशन करके एक न्यूज एजेंसी के स्थानीय मीडिया कर्मी के द्वारा चंदन गुप्ता के पिता से यह कहलवाया गया है कि आप ऐसा बयान दे दीजिए – काशगंज एसपी पीयूश श्रीवास्तव https://t.co/6mBLDnAnG8

— ASHUTOSH MISHRA (@ashu3page) February 2, 2018
He added, "It has been brought to our notice that some manipulation has taken place (by ANI journalist). We've also come to know that an individual from the media has forced (the father) to make that statement. We are probing that angle too. If anyone is found guilty, strict action will be taken against that person."
ANI had posted two news flashes late Thursday night quoting the father of Chandan Gupta as saying that he had received threats from some bike-borne men.
Its tweets had said, "I was sitting outside, some people came on the bike in morning. Stopped bike for a second and said that the accused are going to Jail, but others are still there. Don't take enmity with us. We will see you. Our life is under threat, also my daughter is under threat. I ask Judiciary, Yogi ji to give us licensed arms so that we can secure our safety. We also ask for security cover like security guards till we are under threat."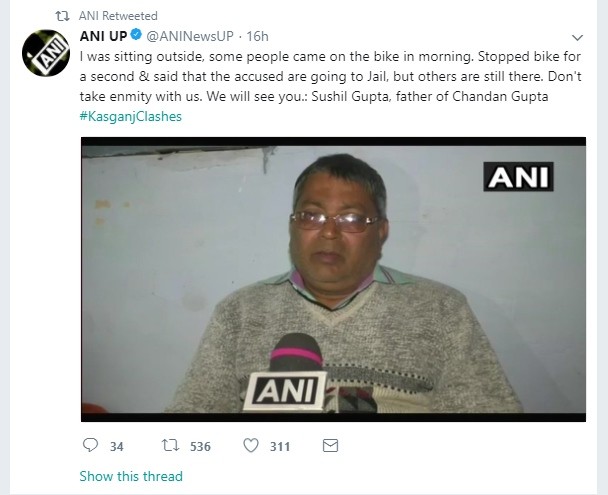 The news had evoked angry reactions from reporters deployed to cover the fallout of the recent communal riots in Kasganj, where a youth Chandan Gupta was killed and two others, namely Akram and Naushad, had sustained serious injuries. One senior cop told Janta Ka Reporter that the ANI reporter had allegedly coerced Chandan's father to make a statement about threats.
"This statement had the potential to cause more riots as a result of possible retaliatory actions. This was a very irresponsible action. We've asked for a stringent action against the reporter by the channel (ANI) bosses. The police too will take appropriate action against the individual."
ANI's boss, Smita Prakash, told Janta Ka Reporter that she was not aware of such development.
According to local correspondents, few reporters had arrived at Gupta's house on Thursday night and requested him to make the statement regarding the threats to his life stating that this will help him get justice expeditiously. However, it was the ANI's report that was picked up by almost every channel on Friday morning.