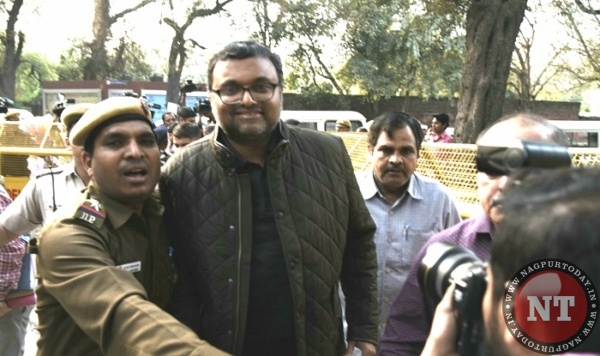 Karti Chidambaran, son of former finance minister P Chidambaram, is throwing tantrums while in the five-day Central Bureau of Investigation custody. After court refused his request for home-cooked food, he asked the investigating officer to order food either from Swiggy or Zomato.
Karti told the CBI, "I hope your investigating officer will have Swiggy or Zomato to order food. I am planning to make full use of it." When the CBI replied in the negative, he added, "Then you will have to get Swiggy or Zomato," the NewsMinute reported.
Karti also refused to remove his gold chains and rings, citing religious reasons.
It was not just all, according to Bar and Bench, Karti reportedly spoke to his friend in Tamil, when a CBI official asked him to communicate in English.
"If that is the case, even you should speak in English with each other when I am there," replied Karti.
The CBI official then reportedly retorted, "You are in custody, not us."
Karti was remanded to five days of CBI custody by a Delhi court in INX Media case.
The CBI said that in May 2007, first Foreign Investment Promotion Board (FIPB) approval was given to INX Media and in April 2008, this reference was made in the Finance Ministry. From June 2008 onwards, the payment of the bribe money started. The second FIPB approval was given on November 2, 2008. "We are investigating whether the April 2008 reference was a pressure technique," the CBI said.
"We have emails and invoices indicating money was given to Advantage Strategic Consultancy Private Limited (ASCPL), which is related to Karti, around the time period when INX Media received favours.
There is substantial evidence with the agency which needs to be confronted with Karti. Three mobile phones have been recovered from him which need to be examined. 14 days is the minimum time required to keep him in custody," Additional Solicitor General Tushar Mehta contended.
Karti was arrested on Wednesday at Chennai Airport on his return from the United Kingdom in connection with the FIR lodged on May 15, 2017 alleging irregularities in the FIPB clearance to INX Media for receiving overseas funds to the tune of Rs 305 crore in 2007 when P Chidambaram was the union finance minister