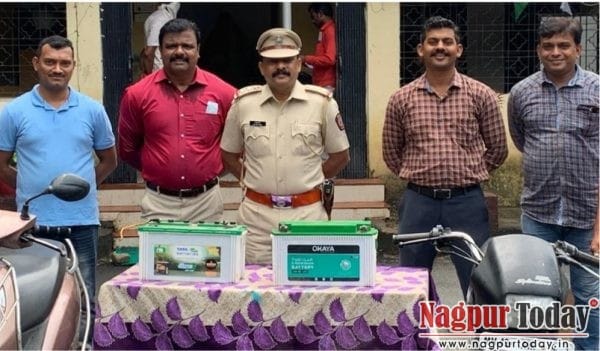 Nagpur: Panchpaoli police rounded up a juvenile burglar and seized two stolen batteries of an e-rickshaw from his possession. Cops have also recovered a stolen bike.
The police action comes after a complaint was lodged by the e-rickshaw owner Arpan Anil Sahare (30), resident of Plot No. 204, Panchsheel Nagar.
Sahare had informed police that he had parked his e-rickshaw in front of his house on September 8 night.
Around 3 am, Sahare heard some noise and came out. He found two batteries of his e-rickshaw worth Rs 14,500 missing. After enquiry from nearby residents, he lodged a police complaint. Cops registered a case under Section 379 of the IPC and started a probe.
During the probe, cops detained the juvenile bouy on suspicion and interrogated him. The boy spilled the beans and confessed stealing the batteries. Subsequently, cops searched his house and recovered the stolen batteries and also a Splendor motorcycle.
Cops summoned the boy's parents and warned him not to indulge in such crimes again. After a chargesheet was filed before the Juvenile Justice Board, the boy was handed over to his parents.
The action was initiated by Senior PI Sanjay Mendhe, PI (Crime) Ravi Nagose, API Chandrakant Nikose, ASI Rahmez Sheikh, NPCs Vijendra Yadav, Romesh Menewar, sepoys Rupesh Sahare, Rakesh Singh under the guidance of Zone 3 DCP Lohit Matani and ACP Sachin Thorbole.