JSW League Championship 2018-19: Rabbani win but Qidwai thrill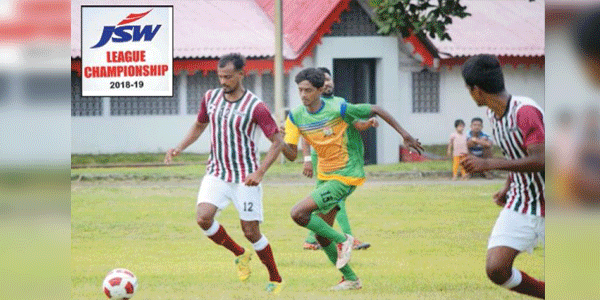 Under dogs Qidwai Sports Club given up as lost did finally lose, but not after giving the more seasoned and reputed Rabbani Club a proper scare of a draw at the Chhatrapati Shivaji stadium in Police Lines Takli on Monday evening.
In this second first phase league outing out of the JSW League Championship 2018-19, Qidwai Sports Club may have lost 2-3, but not without putting on display some fighting-fit football, which could very well come as sounding the alarm for weak teams in this Group 'B' of the league as teams vie for the top three spots so as to make itto the Super Six phase of this tournament.
Rabbani Club, playing their short-passing game impress edall through the first half going on to score three goals, spelling as it were a 3-0 win, which ultimately did not material is especifically so, yet, their Nusrat Kamal (9th minute goal),Mohammed Rizwan (16th min goal) and Zeeshan Nawab (27th minute goal) put on display, what closely coordinated football could look like.
Yet, did they get complacent and almost lose that lead? Well that's what the second seemed to point at, raising in the process two thrilling goals by Qidwai Sports Club. Both of QSC's goals came off Rahul Mundri's effort. His first (3-1) came in the 76thminute off a 30-yarder which kept low over The green grass and entered at the base of the post.
His second came in the 78th min off his header inside the goal are a off a 30-yarder direct free kick by Abdul Akid.
Cautions: Mohammed Rizwan (Yellow Card, Rabbani Club, 90+2nd min). Anup Saddam (YellowCard,86thmin,QidwaiSC).
On Tuesday: South East Central Railway Sports Assn, Nagpur vs Ansar Club, Kamptee, 3.30 p.m