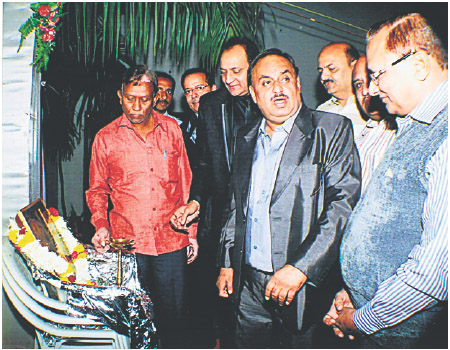 Diwali get-together organised by The Nagpur Itwari Kirana Merchants Association inaugurated by dignitaries in the city recently.
The ongoing saga regarding the FDI in retail continues to gain momentum as MLA Krishna Khopde urged the traders to join hands in the movement against foreign direct investment (FDI) in multi brand retail. He said that the traders have to face several problems after the FDI gets implemented.
The statement was addressed to the traders during the Diwali get-together of The Nagpur Itwari Kirana Merchants Association. The traders also paid homage to late Shiv Sena chief Bal Thackeray.
The president of association Pradeep Panjwani said  that in the coming time there would be a lot of challenges that the  traders would have to face and to overcome this challenge they would have to  forget their entire dispute and unite together against FDI. The secretary Prakashchand Goyal said traders are opposing FDI and they expect support from MLAs and MPs.
The director of Agricultural Produce Market Committee (APMC) Rajesh Chhabrani also graced the occasion. Former president Govind Maitri, Shankarlal Haryani, Purushottam Khandwani, Rajendra Prasad Vaid, Sanjay Suchak, Hastimal Katariya, Chandubhai Amesar, secretary of Wholesale Grain and Seeds Merchants Association Pratap Motwani, Rajesh Shah, Avinash Kalraiya, Ajay Somani, Jagdeesh Agrawal were also present. Harish Krishnani, Asif Kaliwala, Pramod Sedani, Ashok Wadhwani, Shivpratap Singh, Govind Sajnani, Gulshan Sajnani, Harish Fulwani and Pankaj Chhabariya welcomed the guests with floral  bouquet.