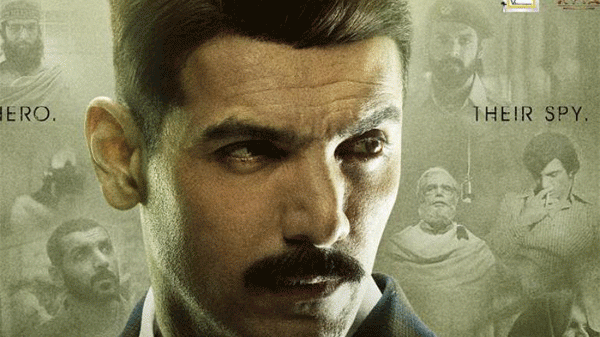 Movies dealing with patriotism have done well, and so, film-makers rarely shy away from making films on it.
And when you have an actor like John Abraham, who has made a name for himself in this genre, producers are willing to take the risk.
But what the makers don't understand is that just by adding the Indian Tricolour and an instrumental version of our National Anthem, doesn't make the movie a hit.
It needs to have a gripping story, which will do justice to the patriotic theme.
John Abraham's new film RAW: Romeo Akbar Walter, falters at that.
The movie tries very hard to invoke love for our motherland, but fails to make that connection.
Something somewhere feels amiss
Set during the 1970s, RAW is a story of a banker-cum-theatre artist Romeo Ali, who has been picked up by R&AW — the Research and Analysis Wing, the country's external intelligence agency — for a mission.
He is trained in combat, shooting and for reading between the lines, under the able leadership of Shrikant Rai, played by Jackie Shroff.
Within days, Romeo, now called Akbar Malik, is sent off to Pakistan, to find out details about the neighbouring country's preparedness for war.
Akbar gets his hands on secret documents and passes it onto his superiors.
However, he gets caught by a Pakistan officer Khudabaksh Khan (Sikander Kher).
John Abraham does his job well, but amateur writing makes his multiple characters look caricaturish.
At no point in time do you feel pained for John's character, except at the start when the Pakistan officer is torturing him.
As a spy, John isn't able to make the audience feel the same tension, which is the biggest flaw of the movie.
John's love interest, Mouni Roy, another spy, hardly has a role. She just serves as eye candy.
Jackie Shroff does well. But again, his role isn't laid out properly, and hence you can't blame him for the shortcomings.
Sikander Kher is amazing — he is the brutal officer you want to hate. His honest act makes us feel sorry for the goof-up in the film's scripting.
Despite having a decent storyline, Director Robbie Grewal isn't able to get us on the edge-of-our-seats with this thriller.
The movie appears 'raw' at many instances and one only wishes that it was cooked better.
Robbie tries hard to make RAW like Raazi, but doesn't quite get it.