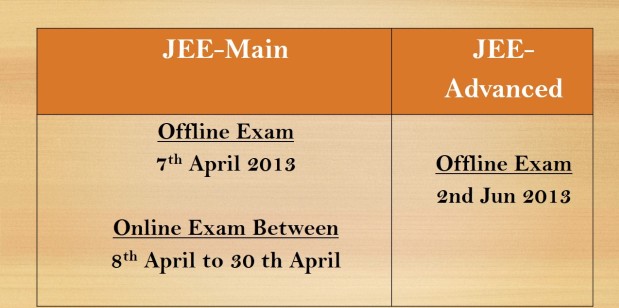 Nagpur News:
On the eve of the Joint Entrance Exam (JEE) that has seen a changed pattern this year, engineering aspirants of Nagpur city traveled to Amravati to attempt this exam and be the first ones to face the changed format of the paper. The written exam of this new pattern commenced on 7th April 2013 while the online exam is scheduled to be held on the 25th of April.
Nagpur Today gathered views and reactions of city students, teachers and parents about this entrance exam that has, in the past decade, acquired a position of prime importance in a science student's life. Based on their experience with the students throughout the year, parents and students shared their stories about this critical year and the changing trends of examinations in the country.
Aprajeeta Shah (Student at IIT-Home, Nagpur) : The paper pattern was good. I think I can score well. The new pattern is not a big deal as we have not attempted this exam before. It's a relief that most exams are compiled together into one and we don't have to travel around for exams from one city to another. Also, I'd prefer writing this exam over giving it online as we are habitual of calculating manually and it becomes faster to keep writing.
Usha Shah (Aprajeeta's mother): This has been a good decision to have just one combined entrance exam. Yes, it's been a task to drive down to Amravati but the arrangements done here for parents and students are commendable. Even the hotels have co-operated and helped us make this easier. It'll take time for everyone to adapt to this change but it will only be of great advantage to the students.
Dr. Anuprita Bhadage (IIT aspirant's mother): Travelling from Nagpur all the way to Amravati has been very hectic. We have been here since yesterday. It's a waste being here two days but we have to do it for our children. The decision to change the pattern and have just 1 collective exam has been a good one. I hope the results turn out good.
Mubeen Pasha (Head of Physics department at Future Vista IIT Coaching classes): The questions seen standard and not very difficult. These questions are mostly of the AIEEE exam level that we have seen in the previous years. The only variation we see is that 80% of the questions are from 12th standard CBSE course while just 20% questions comprise of the 11th standard course. It's an advantage for the CBSE students but a big difficulty for the state board students because most of these units are not covered in their syllabi. Students have no option but to revert to coaching classes for help. As experienced earlier, Physics seems the trickiest of all subjects to students, even in this new format. But it is too early to predict the outcomes.
Chandrakant Satija (Centre Director for Aakash Coaching Classes): This exam is being conducted for NITs, government and private colleges of engineering and deemed universities. 1,50,000 students who qualify JEE mains will appear for JEE advanced exclusively for IITs to be held in June this year. So each category will have different cut-offs and it's hardly possible to predict them now. But this decision to conduct a single JEE is absolutely correct because it is saving the students a lot of time and saving their parents a lot of money to be spent on the various forms and fees for different tuitions for different exams. With the introduction of this common exam, all these problems have been taken care of. We, at Aakash Institute have a team working on developing study material and model test papers. A lot of research goes into extracting exactly that information from books and papers which is most likely to come in the main exams. So our notes and papers have surely helped the students.
Manoj Pawani (IIT-JEE tutor): Even the students are familiar with the usage of internet, when it comes to giving an online exam, they hesitate. They prefer the traditional ways of writing exams, which is offline. This can be a major factor in the fluctuation of percentage of results. The government's concept of 'one nation, one exam' hasn't been implemented the way it should have been so as to extract maximum benefits from it. But yes, the decision to conduct a joint entrance exam for all was right and steps should be taken towards making it more economical.
Notes are mere guidelines for students. The key is to use one's presence of mind and logics to crack these problems. Mugging up answers does not help. Basically, we work towards improving the way of thinking of a student and approaching a problem. The experience of the faculties matters a lot here because that benefits the students. We are also working on improving the skills of students to help them appear for online exams as that would tell a student where he stands.
The changed pattern of JEE has received a good response from Nagpur while the reaction on the online JEE is yet to be seen. As the city gears to conduct online examinations, students await results with crossed fingers and cold feet. The JEE has surely developed a new sense of excitement and thrill in a 12th standard student's life.
Currently there are 9647 undergraduate seats in 15 IITs, IT-BHU and ISM Dhanbad while the number of undergraduate seats in the 30 NITs of the country is 15678 including the seats in the new ones.
The results are scheduled to be declared on May 7, 2013.
This year saw highest ever registration for the test. Last year around 1.12 million candidates registered for the exam. JEE (Advanced) will replace IIT-JEE and will be conducted by the IITs. Only top 150,000 students will take up JEE (Advanced) scheduled for June 2, 2013.
For selection of students to NITs and CFTI, ranking will be given based on score of 60% JEE Main +40% normalization score of board results.
Shivangi Chaturvedi