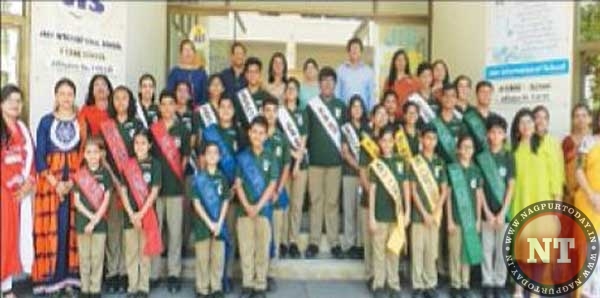 Nagpur: Jain International School and St Xavier's High School Hiwri Nagar recently organised Investiture Ceremony in their respective premises. Investiture ceremony is a day when students stand on the brink of a new chapter.
At Jain International School the newly-elected cabinet donned the mantle of responsibility for the academic session 2018-19. The ceremony was presided over by the Director Anuj Badjate. Priti Badjate, Managing Trustee and Sanjeev Agrawal, CEO, graced the programme with their presence. Director Anuj Badjate delivered a stirring speech which inspired the students to put their best foot forward.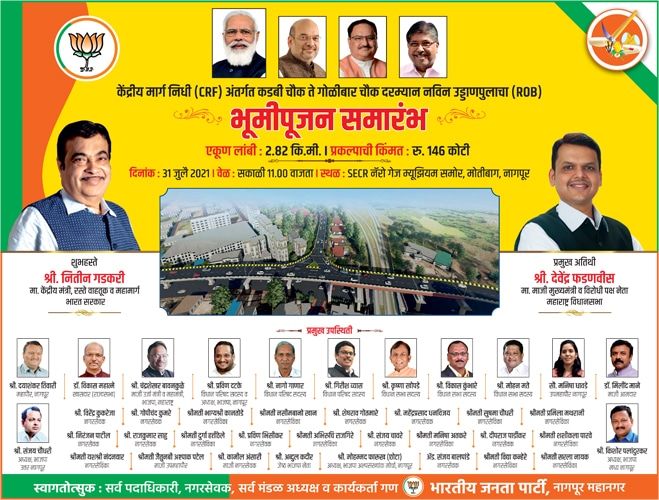 The programme commenced with a shloka by Umeshwar Barapatre and a Ganesh Vandana invoking the blessings of Lord Ganesh that was beautifully executed under the guidance of Vivek Khapre, Vaishali Khapre and Umeshwar Barapatre. The School Cabinet, Captains and Vice- Captains were awarded sashes, badges and flags by Anuj Badjate and Priti Badjate during the ceremony. The oath was administered to the new members by Principal Anmol Badjatia.
The House Mistresses and Organising Committee were also awarded badge by the CEO Sanjeev Agrawal. Head Boy Govind Pandey and the Head Girl Sara Pandey addressed the audience. Principal Anmol Badjatia, declared the house activities open for the new session.
The programme was coordinated by the CCA In-charge Kiran Joshi and by her team comprising Lata Pant,Vivek Khapre, Nirmal Singh, Aniruddha Pundkar, Namita Meshram,Vaishali Khapre, Mohammad Arshad, Umeshwar Barapatre, Ashwini Bohra, Pooja Kaushik Parashar, Anthony Peter and Nilesh Bansod. Anupama D'Souza, Senior Secondary Coordinator compered the programme. Principal, Anmol Badjatia & the members of the Management congratulated the new Cabinet members and wished them success in their future endeavours.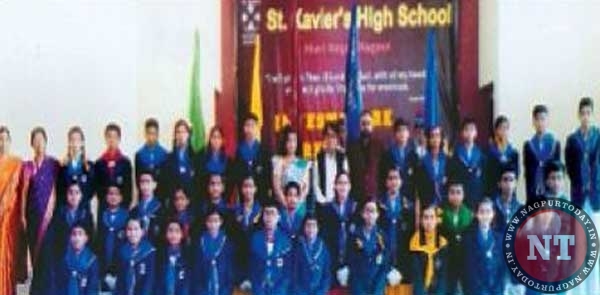 The programme at St Xavier's High School was started with Bible reading by Palak followed by melodious prayer songs. The guest on the occasion was Anand Nirman, Co-Editor Dainik Bhaskar. The guest was introduced by Pranita Chinchole and felicitated with sapling by Rugved and Prashika. Anushka welcomed the guest. Students' council was selected by E-voting.
This software was designed by Std X student Akshat Rangari. The guest conferred the students with badges and scarf. The cabinet stands strong along with Akshat Rangari as President, Deeya Gaurkar as Prime Minister and Naina Agrawal as speaker. The new cabinet council receives the passing light from their mentors to carry forward the legacy with almost dedication and commitment.
Chief guest in his speech inspired students to take their duties passionately as per the designed. Chairman Dr A F Pinto and Managing Director, Grace Pinto are inspiration and guide for making future leaders.