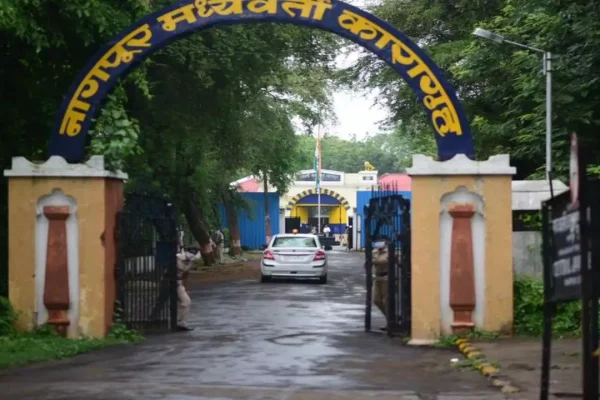 Nagpur: The security of Nagpur Central Jail has been severely compromised due to broken boundary walls, enabling anti-socials to throw in tennis balls stuffed with narcotics, mobile handsets, SIM cards, and batteries, and other contraband material for inmates in the jail, according to a report in a local English daily.
The report highlights that the Nagpur Central Jail authorities had submitted a comprehensive proposal worth Rs 35 crore to the government in 2015 to strengthen the boundary and periphery walls. However, no progress has been made on this front to date. Despite periodic searches and checks, prohibited items continue to find their way into the jail, including ganja, mobile handsets, SIM cards, and batteries.
As the jail authorities stepped up their vigilance and searches at the entrance, racketeers have resorted to using the gaps in the deteriorating boundary walls to reach the periphery of the jail and throw in tennis balls containing the contraband. These tennis balls are cut open, and narcotics, small mobile phone handsets, SIM cards, batteries, and other items are concealed inside. The joints are then sealed with strong adhesive, and the balls are wrapped with tape before being lobbed across the periphery wall of the jail. The report suggests that each supplier and receiver has their own designated time for such activities.
According to the report, certain jail guards or sentries are involved in facilitating these illegal activities, while the Dhantoli police supposedly avoid patrolling the area during specific times. The jail watch towers are often unoccupied, further facilitating the smuggling of contraband. Although drone surveillance has been introduced by the jail authorities, it appears to be an ineffective measure.
The newspaper investigation around the Nagpur Central Jail revealed that the outer boundary walls are nonexistent at some points, particularly in the stretch between Ajni Station Square and Kriplani turning. The makeshift fencing used to bridge the gaps in the outer wall is also flawed. Additionally, surveillance by the Dhantoli police station patrolling staff is reportedly lacking in this sensitive location. Tragically, there has been at least one instance where a youth planning to throw a tennis ball filled with drugs met with a fatal road accident just outside the jail wall.
It has come to light that Mahametro, during the construction of the Metro line, did not complete the boundary wall and also neglected to install view-cutters, which would allow Metro passengers a clear view inside the jail while passing the area, according to an anonymous official.
Furthermore, apart from prohibited materials being smuggled into the jail, it has been discovered that vegetables cultivated in the jail's fields are also stolen by passers-by due to the broken boundary walls.
The compromised security of Nagpur Central Jail poses a significant challenge that needs urgent attention from the concerned authorities to prevent the ongoing smuggling of contraband and ensure the safety and integrity of the correctional facility.