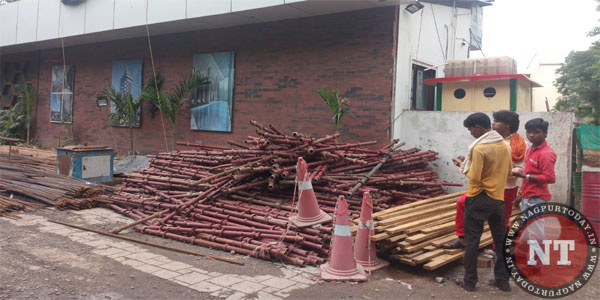 Nagpur: At a time when Nagpur Municipal Corporation (NMC) is bragging about its anti-encroachment drive targetting small time shopkeepers and religious structures, it has certainly ignored the big fish in the net. Ruling party leaders in NMC seem to have been relishing their position while the NMC officials stay mum to the gross violation their hands.
A classic example of NMC's ignorance is the construction project of a top ruling party leader in NMC. The leader in question, being a builder, has been constructing a flat scheme in front of Mayor's old bungalow at New Colony. The display board of the construction work has been installed on the footpath outside the building premises. Similarly, the display board for the site office of his another under-construction building near Hotel Heritage has also been installed on the footpath. The encroachment at both the places have come up on major part of footpath and only increasing by the day. Soon there will be no space for the movement of common public, a source informed.
The alert residents of the area and members of Modi Foundation had submitted memorandums to the Additional Commissioner of NMC, the Chief Engineer, the City Engineer and ward officers of Dharampeth and Mangalwari zones demanding legal action against the encroachment, but all the officers turned blind eye towards the issue.
Recently, four-five houses in front of the clinic of a pediatrician in Jaripatka area were demolished by the NMC squad without looking into the legalities of the issue. The residents have been staying on the plots since more than four to five decades and have reportedly regularized it.
Now the residents are alleging that the NMC squad is very quick in removing temporary encroachments if found in front of the residential and business establishments of ruling party leaders and their well-wishers. The NMC officers also hand over notices to such encroachers threatening to recover Rs 5000 fine from them.
This shows that the NMC administration has turned completely chaotic as illegal acts of influential people are being protected and poor and daily-wagers are being harassed.
The Modi Foundation and the citizens of affected areas have appealed to the NMC Commissioner to personally look into the matter and take strict action against all the guilty people.