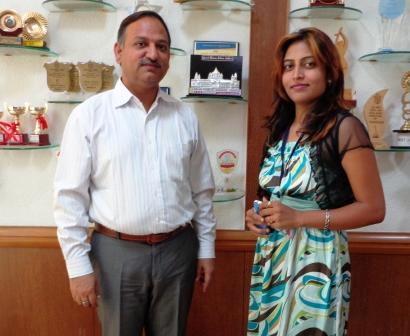 Delhi Public School, Nagpur is functioning under the aegis of Delhi Public School, Society, New Delhi. It is located near 11th Kms. Milestone on Kamptee Road. It started operation from June 2006 onwards. It is affiliated to CBSE, New Delhi and offers education in English medium from pre-school to class XII. The sprawling campus of the school is away from the din and bustle of the vibrant city is bestowed with a natural charm and an academic ambience that makes it a destination with a difference. The architectural design the general layout and imaginative landscaping are a few attributes that adds to the ambience of the centre of learning befitting the stature of a DPS school.
At DPS, the intellectual, social, emotional, physical, spiritual and aesthetic development of the students is fostered to enhance their quality of life. Student achievement is acknowledged and celebrated within the school san the community. Students are prepared for active, independent learning in an environment which fosters a spirit of enquiry and keen competition.
We visited DPS and had a conversation with the Principal Akhilesh Chaturvedi…
Suhani – Since how long you are into Educational field?
Akhilesh Chaturvedi -Since 1991
Suhani -About DPS- When it started,Who had planned for this and hows ur experience till now?
Akhilesh Chaturvedi –DPS nagpur started operation since july 17, 2006
The school is functioning under the aegis of Delhi Public School Society, New Delhi.
I have got a good supporting team consisting of dedicated teachers and office staff who have always helped me in taking all decisions pertaining to the progress of the school.  I have a good support of parent, local management and dps society as well.  I am enjoying working with DPS, Nagpur.
Suhani -According to you what is the importance of school and teachers are in students life?
Akhilesh Chaturvedi -Future of children is being shaped in the school.  Hence, role of teachers becomes most important since its teachers only who makes child to enable him / her to take right decisions at the right time.
Suhani -How DPS is working and how it is helpful for students?
Akhilesh Chaturvedi -All activities conducted at DPS are child-friendly which focuses on overall development and personality of the child.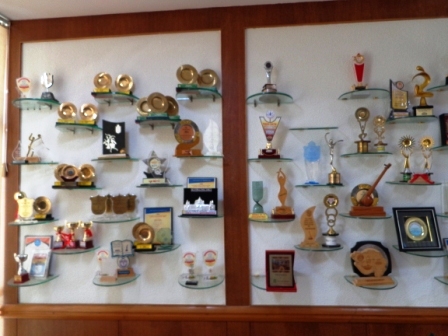 Suhani -Why do you think students should enroll to ur School…What makes DPS special?
Akhilesh Chaturvedi -In today's world, education is a blend of good infrastructure, technology and dedicated teachers. DPS has the state-of-the-art infrastructure to provide the best education.
Suhani -What are the cultural activities being held in this School?
Akhilesh Chaturvedi– In the present times, our children are more inclined towards western festivals.  We at DPS organize cultural activities to promote and inform about our culture.  We organize specialized events for celebrating all festivals and important days.
Suhani -What makes DPS apart from other schools?
Akhilesh Chaturvedi-DPS functions under the aegis of DPS Society.  DPS is present both nationally and internationally.  It has a strong back of educationists who readily extend any support to any DPS school.  This facilitates interaction and exchange of knowledge among teachers and students on a large scale.
Suhani -What do you think about todays educational System?
Akhilesh Chaturvedi-Education system in our country is very complex.  We should form a system that which is designed by educationists and not based on political interests.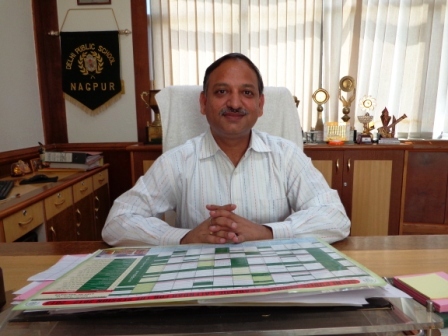 Suhani -Now a days Every school is having different Courses ..whats ur opinion in this?
Akhilesh Chaturvedi-Schools cannot conduct different course.  The syllabus is as prescribed by the CBSE.  Text Books or reference can be different.   This is okay so long as the syllabus is being adhered.
Suhani -As a Principal what are your responsibilities and how comfort you are upto managing all this stuffs?
Akhilesh Chaturvedi-As a Principal, I am responsible for every activity that is related to the school.  I have team of dedicated staff who help in executing and accomplishing my goals.
Suhani -Whats importance for Students- Good School-Talented teachers or Parents?
Akhilesh Chaturvedi-In my opinion, all the three elements are equally significant.  A good school proves as a ground for education; a talented teacher imbibes the knowledge into the child and the parent helps nourishes the child with vigour.
Suhani -Many of the parents have thinking that if their child is in big school there is no more responsibilities for them to take care of their wards in studies.  what do u think about this?
Akhilesh Chaturvedi-Every parent owes the onus of helping their children with academics at home.  Merely admitting a child to some bigger school cannot absolve the parent from the responsibility.  In my opinion, parent should help the child with his / her academics and must necessary convey feedback to the concerned teacher during ptm.  This will always be great help to the teacher and the child.
Suhani -Strenght of DPS?
Akhilesh Chaturvedi-We had made a small beginning in the year 2006 with 600 students.  Over a period of 6 years, our strength has a grown up to 2300 students.
Suhani -Where you are looking yourself after 10 years?
Akhilesh Chaturvedi-Teaching has always been my obsession.  Ten years later, I would prefer to continue to contribute as a Mentor of the school and use all my experience to augment the educational standards of the school.
 Best Wishes for Team of Nagpur Today – Akhilesh Chaturvedi
 Suhani Vanjani