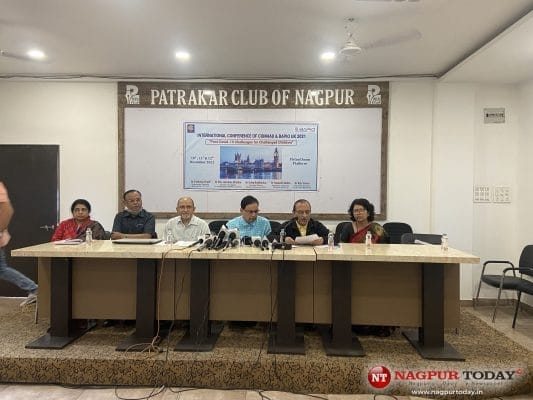 Nagpur: The Commonwealth Association for Health & Disability (COMHAD) & British Association of Physicians of Indian Origin (BAPIO) UK in association with UNICEF, DMER, Commonwealth Foundation and Commonwealth Health Professions & Partners Alliance is organizing an International Conference on Virtual Zoom platform on 10th, 11th & 12th December 2021.
COMHAD was established in the United Kingdom in 1983 with support from the Commonwealth Foundation of 54 Commonwealth countries in the world. COMHAD is one of the Commonwealth Professional Associations and a Pan-Commonwealth Non-Government Organization (NGO) working in the field of health and development focusing on preventive health care.
COMHAD has been in official relations with WHO since 1990 and is a long standing partner of WHO for collaboration. The Chief Patron of The
Commonwealth Foundation is Her Majesty ELIZABETH || The Queen Of England.
COMHAD is actively involved in promoting health development, exchange of technical expertise and inter-country training and education in health in 54 Commonwealth countries all over the world.
The aims of the Association are to provide education and research in health and disability for quality of life – by raising awareness for prevention of disease and disabilities and by promoting health care for low and middle income groups of thecommunity in urban settings.
BAPIO is the British Association of Physicians of Indian Origin was founded by Dr Ramesh Mehta in 1996 with more than 65 thousand Medical Professionals of Indian Origin and is one of the most influential organizations in UK.
The Scientific Sessions will be kicked off on 10′" DEC with a workshops on 'Nutrition Challenges in Challenged Children in Covid-19 & Post Covid-19″ in the morning from 9 am to 1 pm where problems of Teleconsultation, Undernutrition,Micronutrients deficiency, Obesity and Nutrition, in challenged children during Covid-19 pandemic will be discussed with their solutions.
The Inaugural function of the conference is going to be held on 11th December 2021 on virtual platform in the evening at 6.15 pm. The Chief Guests for the function are Honorable Vice Chancellor of MUHS Lt. Gen. Dr Madhuri Kanitkar, International Pediatric Association President Dr Naveen Thacker and President Public Health Foundation of India Delhi Prof K Srinath Reddy.
This will be followed by a cultural musical programme. Participants will be the members of Swaranandavan musical group from Anandvan, Warora, of Karma Yogi most respected Late Baba Amte's Trust and now looked after by Dr Vikas
Amte and his dedicated family members.
The main conference will be on 11th and 12th December 2021 from 1 pm to 7 pm daily on Virtual Zoom platform. The Scientific Committee with their collective efforts and keeping the theme – "Post Covid-19 Challenges For The Challenged" of the conference in mind the committee have arranged the deliberations on various challenges faced by general as well as challenged persons and their solutions and various health issues. The deliberations will be a rich fare for pediatricians, community physicians, MPHN students, medical officers, physiotherapists, occupational therapists, teachers, counselors, under-graduate and post-graduate medical and para-medical students, parents & special
educators.