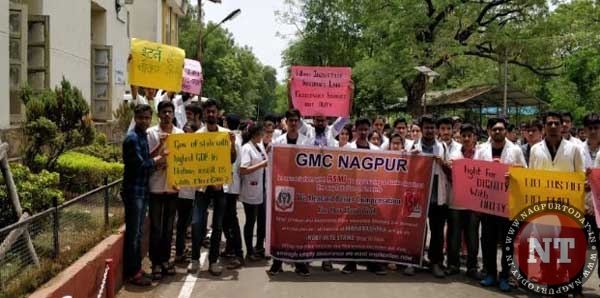 Nagpur: All the Medical Interns doctors under the banner of Association of State Medical Interns Maharashtra, have started an indefinite strike from June 13.
Even in Government Medical College, Nagpur Interns were on strike and gathered in front of Dean Office. According to the Interns they are given less stipend as compared to other state.
The doctors of Maharashtra are given the lowest stipend. While the GDP here is more than the other states. The interns in Maharashtra get a stipend of Rs 6000 whereas in other state the monthly stipend pay is nearly Rs20,000.States like Chhattisgarh, Odisha, Assam, Kerala, Karnataka and West Bengal pay Rs20,000, whereas states like Uttarakhand (Rs7500), Madhya Pradesh (Rs8,000), Punjab (Rs9,000), Haryana (Rs11,900), Telangana (Rs13,000), Bihar (Rs15,000) and Uttar Pradesh (Rs17,900) are considered to be low paying states. Delhi interns are paid the maximum stipend of Rs21,000.
Doctors have to work for a long time because the working hours of intern doctors are not fixed, this is also one of the issue raised by them.
Intern Doctors often met the state and ministers and placed their demand but only assurance was given to them.