Intense sun's scorching heat leads denizens to resort to heat allaying measures


Nagpur: Nagpur city is known for its oranges and very hot summers. The mercury is slowly on the rising trend. On April 20, 2016, the Maximum Temperature recorded was 43.6 degree Celsius while the Minimum temperature recorded was 28.5 degree Celsius. The forecast for the next 24 hours is partly cloudy sky.
The citizens of Nagpur have to resort to various measures to keep themselves cool. While some of these measures provide relief only for some brief period, others are really effective.
Coolers
The coolers work only in Nagpur city during the summers. Since the heat in the city is practically dry, the coolers create moisture in the room and then cool it with cold air blown in by exhaust fans. However, even the coolers seem to fail to cool the rooms this time round. Many small-time traders and businessmen involve themselves in this seasonal business. While some traders sell parts of the coolers like exhaust fans, side-panels with khus roots or wood-wool, motor-pumps to pump water or pre-assembled coolers. Electricians are in heavy demand to either rectify the electric connections, affixing the coolers, repairing the motors, fans etc.
The intense dry heat that is observed in the city seems to heat-up the water in the cooler and practically throw hot air inside homes. Keeping in mind the heavy demand, the prices of even the pre-assembled coolers, are hiked by these traders and businessmen and are sold at pretty costly rate. The room coolers of branded companies are anyways on the higher side.
Nimbu Pani
Fresh lime juice is a welcome drink in this hot and scorching summer. One can see many road side vendors at various places in the city. However, some sources alleged that since the ice-slabs are sold costly by ice-factories, some of these unscrupulous road-side vendors are buying ice-slabs from people who use ice-slabs to preserve dead-bodies. This could definitely be harmful since one may never know, what disease the deceased died from. Similarly, the sugar syrup which these road-side vendors use has saccharine which again is said to be harmful. However, when one is thirsty, one never bothers about the sanitation of the vendor or the stall or anything else. A simple cold Nimbu Pani makes much difference.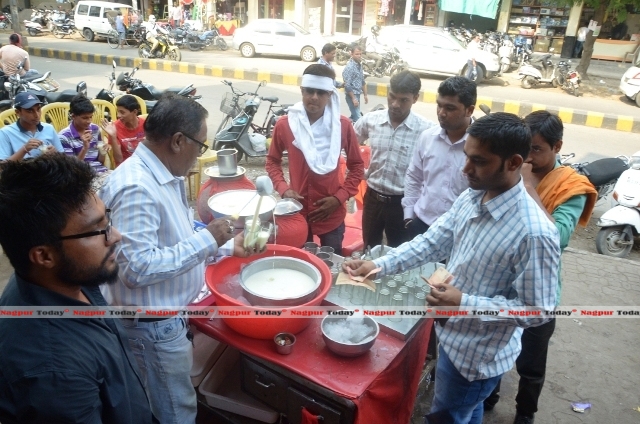 Lassi
After Nimbu Pani, Tak (watery curd) or Lassi (thickened sweet curd) allays heat. In this part of India, the temperatures hovers around 40 degree Celsius and as high as 47.9 degree Celsius. As the mercury surges, the all those who are in the business of milk supply and as a side season business transform milk into yogurt which becomes the main ingredient of the Lassi (sweetened curd). In Nagpur's heat, it does not take long, for the yogurt to sets. However, in order to make the milk thicker, some unscrupulous vendors add arrowroot powder to milk causing it to become thick.

Incidentally arrowroot powder is also used as starch. This starch thickener has several advantages since it is of neutral flavor, is a good thickener for delicately flavored drinks.  Arrowroot powder is a good thickener for dairy-based sauces, since it turns them slimy and best when added with Lassi. However, some people claim that regular consumption of arrowroot laced yogurt or dairy products can be harmful to humans.