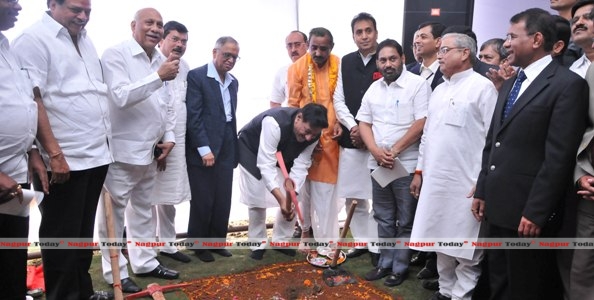 Nagpur News.
Setting tone for the fresh round of development and adding wings to the dreams of hordes of future IT professionals in Nagpur, IT major Infosys performed stone laying foundation for its upcoming facility – Infosys IT Park in Mihan here on Saturday. After first phase of its completion it will create 5,000 jobs for IT aspirants. This will be third such Infosys facility in the state.
Besides, foundation was also laid for Concore Multi Modal Logistic Park in the vicinity.  Chief Minister Prithiviraj Chavan along with Founder and Executive Chairman of Infosys N R Narayan Murthy were in Nagpur on Saturday to lay the foundation for Infosys IT Park.
Member of Parliament Vilas Muttemwar, senior Congress leader Mukul Wasnik, State Minister for Employment Guarantee and Water Conservation Nitin Raut, Food and Civil Supplies Minister Anil Deshmukh, CMD of Mihan India Ltd. Tanaji Sapre, Chairperson of NIT Pravin Darade, Senior Vice President of Infosys Ramdas Kamat were prominently resent on the occasion.
Speaking on the occasion Narayan Murthy said, "Our investment in this third campus firmly establishes Maharashtra as a key region for Infosys." Talking about the city he said, "Nagpur is a culturally vibrant city and with industry focus shifting to non-metros, the city is rightfully staking its claim in this new dispensation."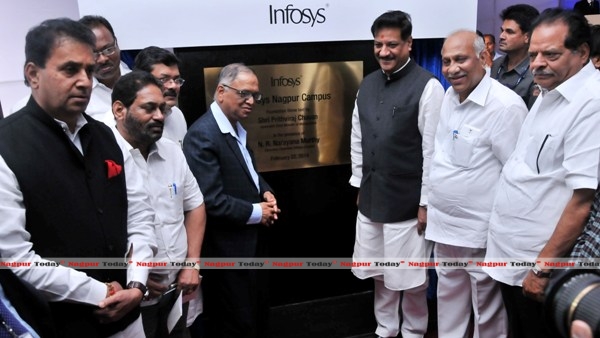 Chavan specially mentioned the name of Nagpur MP Vilas Muttemwar and termed Mihan as city MP's dream project. He said that the latest development on the iT front in Nagpur is like dream coming true.
Nagpur MP Vilas Muttemwar in his address extended thanks to Narayana Murthy on behalf of the people of Nagpur for bringing the ambitious project to the city. He also thanked the Chief Minister for getting Narayana Murthy to come to Nagpur. He said, "With the Infosys IT park, Orange City will now be called as Infosys City. Wherever Infosys has established, development prevailed and it served as the major attraction for other industries too."
Muttemwar said that the first phase of the facility would be completed in three years which will generate direct jobs for 5,000 people while creating 10,000 indirect jobs.
Later, talking to Nagpur Today, Muttemwar said that the jobseekers of Nagpur would not be required to move to cities like Pune, Hyderabad, Noida and Gudgaon once Concore and Infosys gets functional. He also added that after Pune and Bangalore, Nagpur has bright prospects of being tagged as the next IT hub of the country. "After TCS has begun its work here, Infosys has only brightened the prospects of Nagpur being the IT hub," he told Nagpur Today.
The new campus at Multi-modal International Cargo Hub and Airport at Nagpur (MIHAN), SEZ will be spread over 142 acres of land allocated by the Government of Maharashtra and construction will be undertaken in phases.
In the first phase of construction, the company will make an investment of Rs. 475 crore to create a built ­up area of 9.5 lakh sq. ft. which will generate employment for 5,000 software professionals.
However the foundation stone has been laid, a section of IT experts was apprehensive about the pace of its progress.
Countering this contention, Muttemwar said, "We have taken up the onus to get it done in three years. When Narayana Murthy expressed some paper works to be done with Maharashtra government, CM has assured him that there would not be any hurdle from the state. As far any clearance from Delhi is required, I and Wasnik will leave no stone unturned in getting the things done as fast as possible."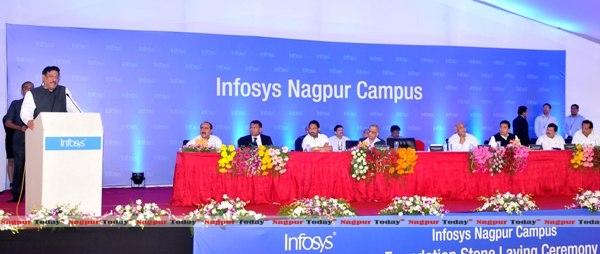 Former state minister Satish Chaturvedi viewed that Infosys is one of the world's leading company and it will cater to the job requirements of all the IT engineering students of Nagpur. "Technical youth of Nagpur will be benefited the most," he added.
When asked there were similar announcements made in the past but all suffered inordinate delay, Chaturvedi said, "This is not just an announcement but Narayana Murthy himself has come to lay the foundation stone of the facility and I am sure it would be completed in time."