'Indradhanush' Musical Concert by Indian Air Force at Futala Lake, Nagpur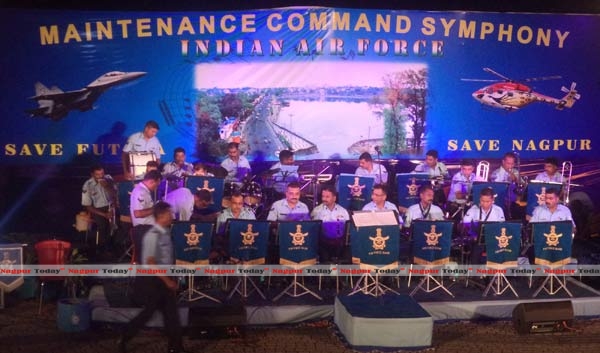 Headquarters Maintenance Command located at Vayusena Nagar, Nagpur had recently showcased the operational capability of the Indian Air Force through 'Air Fest' on 27 September 2015. As part of its social responsibility, the 'Swachh Nagpur' campaign, was also successfully undertaken at Futala Lake on 02 October 2015. As a Grand Finale of the 83rd Anniversary Celebration of IAF, a thrilling Musical Concert 'Indradhanush' is being organised at Futala Lake on 18 October 2015 from 0630 PM to 0800 PM.
The Musical Concert will be presented by a symphony orchestra comprising No. 5 Air Force Band of Maintenance Command, Nagpur and a Choir. With their mesmerizing performances, the Band will enthrall the audience taking them on a melodious journey with an eclectic mix of medleys, musical composition of popular Hindi and English songs and tunes besides performances by flute and saxophone artists with the help of brass, woodwind, reed, string, electronic and percussion instruments. The objective of this event is to instill a sense of responsibility towards maintaining cleanliness at Futala and to attach emotional ownership of the lake among Nagpurians in general and the youth in particular. The Musical Concert is open to general public.