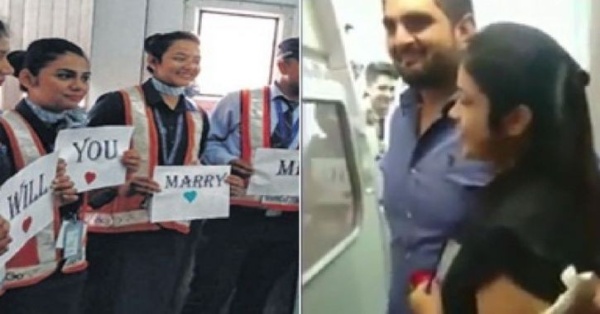 Nagpur/Indore: Lately, various airlines have been in the news for all the wrong reasons. But finally, they have pulled something off, that's rather cute. In an incident which looked straight out of a Bollywood movie, Nagpur-based Narendra Anandani went down on one knee to propose to his lover in the aerobridge of the plane.
Anandani, came to Indore airport from Nagpur, just to catch his lover who was traveling to Goa by surprise. All the passengers of Indore-Goa flight were thrilled to hear the announcement through aircraft's intercom.
In a video of the incident that has gone viral, airline staff can be seen holding placards on the aerobridge with "will you marry me?" written on them. Surprised by the move, she slowly made her way to the intercom when he went down on one knee and held a rose to her,
And she said YES!
According to some reports, this was against the guidelines issued by the Directorate-General of Civil Aviation (DGCA), but it was romantic nonetheless!
The Civil Aviation Requirements (CAR), issued in 2010, states that "the public address system and interphone system are tools for relaying safety information".
Indore Airport Director Aryama Sanyal told a news agency that using the internal announcement of the plane is not allowed except for safety information and that the nod of the flight's captain must have been taken for this proposal.