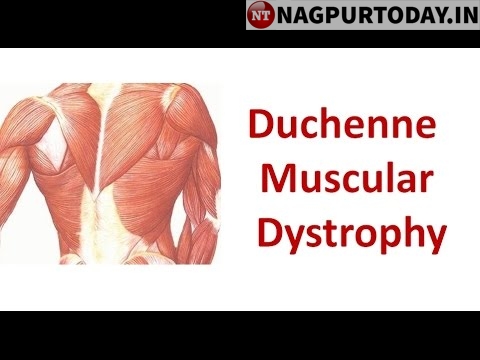 Nagpur: The incurable Duchene Muscular Dystrophy (DMD), a rare genetic disease, is heavy toll of children in India. As there is no cure or treatment available so far in India for DMD, children (boys) suffering from the disease don't live beyond 18-20 years due to gradual degeneration and weakness in limb muscles finally affecting heart and lungs resulting in death. But there is now a ray of hope to fight the disease. Scientists in three different institutes in Kolkata and Bengaluru are nearing completion of basic work required for development of a medicine for the disease.
In India, 54 babies, affected by DMD, born every day. One in every 3500 people is affected by DMD as per WHO report. India could have 8-10 lakh patients of various types of muscular dystrophy.
Prof Surajit Sinha from the Indian Association for Cultivation of Science (IACS), Dr Apurba Ghosh, Institute of Child Health (ICH) from Kolkata and Arun Shastry from Dystrophy Annihilation Research Trust (DART) in Bengaluru are in different stages of the process for development of three different types of drugs for DMD.
In fact, DART with support from Prof Sinha has already conducted a successful trial of a RNA based molecule (antisense oligo-nucleotideor AON ) on a single patient with permission from the Indian Council of Medical Research (ICMR) at Bengaluru and has already applied for clinical trials for the same to the Drug Controller General of India (DCGI). But it will be another 10-12 years before these drugs are commercially available in the market. Yet, the parents of almost every child want their children to be a part of the future clinical trials in India on medicines that the three scientists are working on with the hope that the medicines could help treat the disease for at least those who are small as well those who may be born with this disease in future
Though in USA a drug — 'Exondy51' — was released in September 2016, but it is way beyond the reach of Indian patients as the drug costs Rs 2-3 crore annually with one injection per week for 52 weeks.
In absence of any cure or treatment, the parents of over 10 lakh children pan India suffering from different forms of muscular dystrophy (DMD being one of them) are living a life of abject despair and staring at death. Hence various parents groups and individual parents are demanding a policy on the disease and its inclusion in the 'Ayushman Bharat'.
Parents across the country want government to prepare a patients directory to realize the high incidence of the disease as 20% of the total muscular dystrophy patients are in India. Another demand is that of including rare diseases like this into insurance schemes. Parents also want physiotherapy and other such required supports in the form of medicinal supplements free of cost for patients whose parents cannot afford expensive steroids that are used at present for management of the disease in addition to reduction in cost of assistive devices such as wheelchairs, transfer boards, hoists, calipers, AFOs, leg/knee braces, etc.
Parents expect government to work towards an effective cure for all forms of MD including BMD, DMD, FSHD, all types of LGMDs, etc. They are demanding DMD care hubs with medical and healthcare professionals, patient advocacy groups, pharmaceutical companies and other key stakeholders besides creating awareness on MD and evolve care protocols with emphasis on availability of relevant literature and videos in local languages.
Since the disease is genetic and is caused due to different kinds of effects like mutations and deletions on any exon from 1 to 79 on the dystrophin forming gene, the largest gene of human body, on 'X' chromosome, a single medicine cannot be used to treat all the defects. Medicines have to be tailor made for each kind of muscular dystrophy and hence the huge cost involved in drug development.
The three researches –
1. Indian Association for Cultivation of Science (IACS), a deemed to be university, Kolkata– Prof Surajit Sinha, School of applied and Interdisciplinary Sciences has developed the basic ingredient, the 'Morphilonos' molecules required for manufacturing the DNA based drug for treatment of muscular dystrophy. The DNA based drug is better and more effective than a RNA based drug.
Sinha already has a US patent (Morphilino based anti-sense agents) with number US 9,914,745B2. He has also worked with Arun Shastry, scientific head of DART for the RNA based drug already tried on a patient. Almost 90-95% of parents of MD children are aware of his work and want their children to be part of clinical trials of his medicine. They and want government to further fund the making of the medicine being developed by him. He tells that he has not borrowed or copied the Morphilonos making technology but is result of 13 years of research. "Initially my target was not DMD. I was working on development of medicine for genetic diseases in general including cancer," he said.
Prof Sinha has written to the Prime Minister Narendra Modi informing him that his medicine will be similar to Exondys-51 but is generic version of it. He has appealed for initial financial support of Rs 5-6 crore required for pre-clinical study with a hospital and Pharma company having Good Laboratory Practices. This will be followed by large scale trials and treatment. Government has asked him to submit his proposal.
2.Second research by DART – Dystrophy Annihilation Research Trust Bengaluru
Chief Scientific DART ArunShastryhas already come up with a RNA based Antisense Oligo-Nucleotide (AON) about six months back which has been tried on a patient KaranveerAnandwith positive results in last six months. Shastry said that this research was funded by Ravdeep Singh Anand, patient's father as well as 20 other families of patients suffering from some form of MD, 'I have not created a new molecule. But I took training in Australia at Murdoch University with guidance from Steve Wilton, who is pioneer in making 'exon skipping' technique. Shastry also admitted that he was working with Prof Sinha at Kolkata for the DNA based rug as it is more effective.
3.The third research Personalized Medicine Institute Kolkata:
Saubhik Sengupta, PMIS laboratory director claimed that in Kolkata, his lab was starting the first clinical trial on DMD in India. The Antisense Oligonucleotides (AONs) will be designed after careful analysis of every individual DMD gene, and designing unique AONs for every child. The study aims to bring down the cost to around 4 lakhs yearly.
Dr. Apurbo Ghosh (Principal Investigator) of the project will run the trial in Institute of Child Health, Kolkata with Dr. Manjari Mitra. DrSEngupta will be the co-principal investigator and is responsible for genetic analysis and design of the AON for every individual.
The study is funded by Muscular Dystrophy Group, an NGO made up of parents whose children suffer from DMD.
Sengupta claimed AON therapy is being tried in India for the first time and will have immense ramifications in treating untreatable diseases like limb girdle muscular dystrophy, spino muscular atrophy, spino cerebellar ataxia, huntingtons chorea, several cancers etc.
Types of DMD
There are total 9 types of Muscualr Dystrophy
1 Duchenne Muscular Dystrophy
2. Becker Muscular dystrophy
3. Myotonic Muscular Dystrophy
4. Limb-girdle Muscular dystrophy
5. Facioscapulohumeral Muscular Dystrophy
6. Congenital Muscular Dystrophy
7. Oculopharyngeal Muscular Dystrophy
8. Distal Muscular Dystrophy.
9. Spinal Muscular Dystrophy