Incessant rainfall hits life in low-lying areas in Nagpur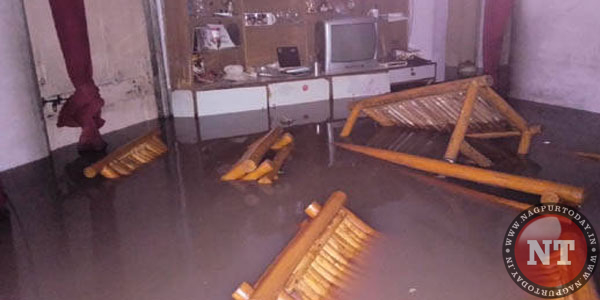 Nagpur : Incidents of water logging and overflowing of nullahs were reported from several parts of the city following incessant rains since Monday noon. People residing in low-lying areas were the worst sufferers as their homes and establishments were completely submerged in water.
The situation is likely to worsen as the Met Department has issued warning of heavy rains on Tuesday also. The city administration has issued instructions to disaster management to be on alert.
Though situation was mostly under control as rains were not too heavy, but if it continues to rain with the same speed for another 24 hours, then situation will certainly change and may become alarming in low-lying areas.
The heavy rainfall in July this year had played havoc in the city. The Vidhan Bhavan and other important buildings had submerged in rainwaters and Ambazari lake had overflown.
The continuous rainfall since Monday noon has increased the water level at all the ponds and lakes in the city. Ambazari lake is again expected to overflow due to non-stop rainfall. Water level has also increased in Nag river, Pili river and Pohra river. If the rains continue for another day, areas on the banks of these river may face threat of flood-like situations.