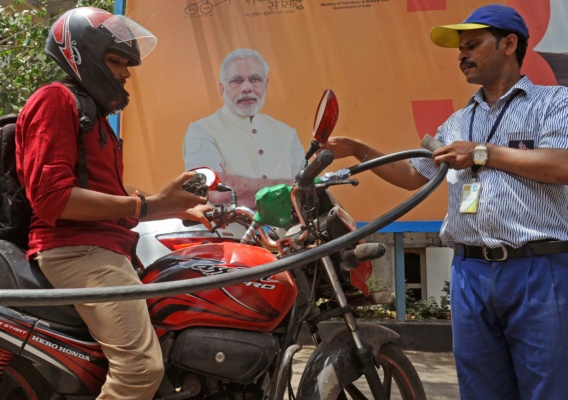 NAGPUR: Petrol and diesel prices have broken all records. But they are not uniform across the country. The prices vary due to several factors, the most important being the state value-added tax (VAT). States do not levy the VAT at the same rate which leads to a wide variation in prices.
In India, petrol and diesel prices are dependent on a lot of factors. The actual price of petrol and diesel is way less than what we pay for it at the pumps. For every litre of petrol, a buyer also pays excise duty, state VAT, dealer commission and transportation cost apart from the actual price of petrol. The final price of petrol and diesel at the pump is: price charged by refineries to dealers + Central government tax (customs duty, excise duty) + state tax (VAT) + dealer commission + inland freight charges. The retail price for petrol reaches up to Rs 90.42 per litre in Maharashtra's Parbhani where state VAT is the highest. This is the highest price for a litre of petrol in India.
Among the
In Nagpur petrol is at Rs. 88.67 because the state tax in Maharashtra is the highest. On the other hand, prices of petrol and diesel are a bit less in Port Blair where a litre of petrol costs Rs 69.97, Rs 18.7 less than in Nagpur.
The lowest VAT percentage is for Port Blair with 6 per cent VAT levied on petrol. This leads to the lowest cost of petrol in Port Blair. In comparison, state VAT on petrol in Mumbai is 39.12 per cent, the highest in the country. Diesel sells at Rs 77.82 in Mumbai while in Port Blair the price is Rs 68.58. State VAT on diesel in Mumbai is 24.78 per cent, among the highest; in Port Blair, it is 6 per cent, the lowest.
A high VAT on petrol doesn't necessarily mean an equally high VAT for diesel too. The highest VAT for diesel was levied by Andhra Pradesh with 28.08 per cent but four days back the state government cut it by Rs 2. Now the highest VAT is levied by Telangana at 26.01 per cent.
The cheapest petrol in state capitals
Port Blair: Rs 69.97
Panjim: Rs 74.97
Itanagar: Rs 76.97
The cheapest diesel in state capitals
Port Blair: Rs 68.58
Itanagar: Rs 70.44
Aizawl: Rs 70.53
The costliest petrol in state capitals
Mumbai: Rs 88.67
Patna: Rs 87.46
Bhopal: Rs 87
The costliest diesel in state capitals
Shillong: Rs 83.67
Kolkata: Rs 83.14
Hyderabad: Rs 79.73