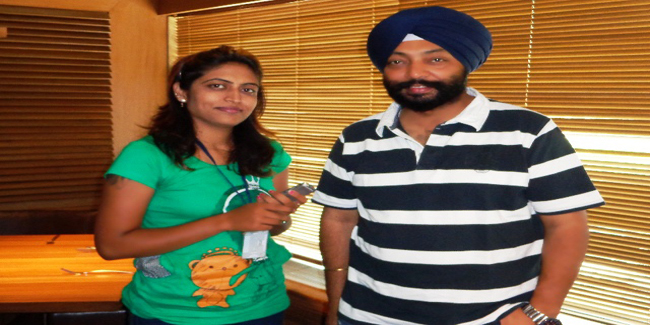 Suhani  from Nagpur Today gets candid with the Energy Chef of India and Fame of Turban Tadka – Chef Harpal Sokhi who is in the city at a Food Festival in Hotel Hardeo.
Suhani – : You are a celebrity chef, how's your experience been till today?
Chef Harpal Sokhi: The journey from the catering school to being a celebrity chef has been very exciting. I have always been passionate about cooking. Cooking is the first criteria if you want to be something in this line. Cooking always drives you. Whether I'm in Hotel Hardeo or in America, Germany, Nepal, UK  or in my hometown cooking with my mother or my granny, I've been very passionate about it. It's been fun. It's been a long journey.
Suhani – : What kind of food do you enjoy cooking the most?
Chef Harpal Sokhi: This is a very difficult question I must say. I enjoy cooking anytime and at any place. Cooking wise anything excites me because I am very passionate about it. I'll give you a small example; I was in Georgia, a Caucasian country in Europe. There was a group of 6 – 7 people and we were on a Wine tour. After 6 – 7 days, eating Georgian food, though it was very good, you still want to come back to your roots and eat what you are actually used to. So the 6-7 people coaxed me to cook for them there. So the last few days in Georgia, I actually went to the kitchens in the restaurants and started cooking for them. I have cooked in the fields of Punjab, actually in the farmhouses; so I am driven with experiments and stuff that is new. I go to new places and I taste new food. I love doing it. I like tasting local cuisine a lot. I will make sure that in Nagpur I will have Saoji. Certain things become famous for their taste and quality. I taste food from everywhere and then I bring it back to my kitchen and then experiment and recreate it.
Suhani -: What made you choose this career?
Chef Harpal Sokhi: This is very tricky question for me too. I belong to a town called Kharagpur which is in West Bengal. It is famous for 3 things. One is IIT, second is Air Force and the third is Railways. None of the above excited me. I was a little interested in the Air-Force but then by the time I woke up, I realized that I had crossed the age limit to apply. I had a friend who studied Hotel Management in Silliguri. Every time he'd return home, he would come in a suit and I was so excited looking at him. My brother then made me give a Hotel Management exam and then I joined the Bhubaneshwar Institute. After joining, in a month's time I made a decision that I am going to be a Chef for the rest of my life. Something came from my heart. Something I could connect very easily with. I am deeply connected to Nagpur and I am close to it as my Wife and In-laws are based from this city. I am always ready to do anything in Nagpur. My parent, In-laws, relatives and everyone are very passionate about food. My Mother in Law in fact is a Maharashtrian. She always tells me new stuff in cooking.
Suhani -: Is cooking more suited to the Male or Female temperament; what do you feel?
Chef Harpal Sokhi: Honestly speaking, female cooks are better cooks. But professionally, because the kitchen demands a high level of activity and long hours, especially the odd timings, you really don't find too many lady chefs. So men come in and take over. And yes India has seen many Lady Chefs. A few of them actually manage a lot of Hotel Chains. I feel that lady chefs have a good hand at cooking. They are passionate about it. When they become mothers, they cook with a lot of positive energy as they want their kids to eat well.  When I go out to places, I speak to local women and take ideas, tips and tricks from them. They know to manage taste very well. This aspect makes them far superior to men. Just because a Chef's job is physically very demanding, too many women don't opt for this.
Suhani -:  Which is your favourite Restaurant in Nagpur?
Chef Harpal Sokhi: (Laughs Loudly) There are a lot of good joints in this city. The unique most part of the city are the restaurants in the outskirts. This drives a lot of Nagpurians, I know. I was the person who started Tuli International. I was the Executive Chef there. This was in the 90s. While I was here then, I liked to drive out and eat at the open air restaurants outside the city limits. The Regional restaurants, the Saoji Restaurants etc. I liked it all. My favourite Saoji joint was in Kamptee Road. I don't actually remember now, but I think it was called Devendar Saoji or something. It was just near the Octroi Naka. It was a household that would manage the entire Restaurant. The Females of that household would cook and the Males would serve and do the other stuff. Food there was limited and you had to actually reach quickly to get a seat there. It was very well managed there. I like quite a few restaurants in India. There is Bojohari Manna in Calcutta, In Mumbai there are Konkan Restaurants and quite a few eateries around India. I remember the times when I was working with Tuli; people would actually compare the food there with international standards. I remember the time when I went to Germany for a food festival, we asked the local chef for the best local restaurant, and he directed us to Adolf Wagner. It was minus 3 degrees and we were roaming in the streets in search of this restaurant. We located it and it was below in a cellar. The moment we went down, we saw that it was completely packed. Food was amazing. They really served the local food well. That's why the restaurant was amazing. I love to experiment with local food. In Saoji, the balance of ingredients is very good. That is the real art of Cooking. I know there is a lot of oil in it but now that I am reading Ayurveda, it says that, oil if treated to a certain amount, doesn't add to cholesterol. The ingredients have to balanced well. I see that balance in Saoji.
Suhani – : Do you think Nagpur is open to exotic cuisines?
Chef Harpal Sokhi: I know that there is a lot of travel movement in Nagpur. Quite a lot of flights arrive and depart from here. In time to come, this number will increase. People who travel a lot, people will want to recreate their old travel experiences will definitely want to relive that taste. The favourite destinations are Middle East, Far East and of course Europe. After Indian and Chinese, people across the country are now experimenting with Italian to quite an extent. People will be exposed to a lot of cuisines as they are travelling a lot, so in bits and pieces, eventually people will open up to various cuisines and tastes.
Suhani – : How important as per you is the ambience of an eatery?
Chef Harpal Sokhi: If it's a city hotel, ambience matters a lot. People want it to be clean and hygienic. They want it to be thematic. But if the food is right and is good, then ambience is secondary. If the restaurant is done well, with apt themes, then primarily people will go to get a feel of the place. If it has to be a second time, it is only the food that will bring people back. The food brings in the traffic. If the ambience is good then the food should be good. That is the first call. If the ambience is great and the food is not good, then you might not go there the second time. For a restaurant, it is the food that drives everything.
Suhani – Nagpur Today: What about the high costs of swanky restaurants?
Chef Harpal Sokhi: See there is always a cost to managing a large property. If the property is good, larger, nicer and serves an experience beyond food, thematic etc. then there will be a cost to it. Even the kitchen would be very hygienic. A guest can actually go to the kitchen and see stuff there before sitting down to eat. The investment cost is high. So then the prices accordingly at the restaurant will be marginally higher than other regular restaurants. In a classical diner, it is not just about food. It is about the crockery, cutlery, the furniture and the ambience along with the food overall that defines these swanky restaurants and hence the pricing is higher.
Suhani – :  Which is the best dish you have ever made and have complimented yourself for it?
Chef Harpal Sokhi: I remember I was cooking for Princess Sara at UK while I was the Chef at Regent. It was a private gathering. They wanted a special experience on Indian food. I cooked one of the best dinners ever and she was like, "Wow! I have never eaten food like this before". Another time in Dubai, in Signature Restaurant, I had once cooked Indian food. There was a restaurant in the lower floor that was run by the Michelin Star Restaurants from UK. The Executive chef there ate at ours and exclaimed that this was the best Indian food he had ever tasted. And when you hear something like this, it is very heartening. On a priority, a happy customer means a job well done. I see a happy face, I feel most happy. I am blessed by God that I can get along with anyone around the world. This helps a lot. Believe me!
Suhani – Nagpur Today: What has excited you the most about this event in Hardeo?
Chef Harpal Sokhi: I must compliment Rohit (the GM) for this the most. Anyone who wants to do anything like this in Nagpur, I always say yes. Looking back, My very close friend Pradeep Rajput with whom I ran a catering business supported me in doing quite a lot of fabulous events. For the level at which catering has reached in Nagpur today, I take the honour of increasing the bar. I have done around 8 to 10 plus large events in Nagpur. The quantity we are talking here is magnanimous . Each menu would be of around 8 – 10 pages, a brigade of at least 60 people would be in the staff, we had chefs who would cook Japanese, Thai, Chinese, Lebanese, Mexican, Italian etc. We definitely raised the standards in this city. I am very passionate about all of this. When I was working for Tuli, people would always tell me about Hotel Hardeo. That time one Mr. Acharya was the GM. I finally decided to check it out. When I came, I saw that the Bar was packed. The Barman could really connect well with the people. He would go all out to the people and people would only come because of him. In the restaurant people would taste the food and give their honest opinion. There was a great connect here. So when Rohit called me, I was all in. I wanted to be a part of something that was very good during my time and people in the 90s would always talk about this hotel. From then to now, a lot has bettered here. And so as time has passed by, the property has got a good facelift. They have remodelled the Hotel. But those old values of the Hotel are being carried on by Rohit and his staff.
Suhani – Nagpur Today: Any suggestions for people interested in Hotel Management?
Chef Harpal Sokhi: Yes. Always be passionate about what you do. If you do it right, success will follow.  Most importantly be passionate about what you do. These days I see that people want to be successful very soon. They want to jump the ladder very fast. They want the shorter way to success. I remember in 1993, most people didn't know that Khana Khazana was started by me. 23 Chefs had auditioned for the role. Each Chef recorded 2 episodes each. Then while editing, Zee TV found that I was the best presenter. Then 3 Chefs were shortlisted .  Myself, Sanjeev Kapoor and another lady from UP. I was so passionate about cooking, that I didn't pursue it further. When I am now doing my show called Turban Tadka, people come and tell me that the best part of you is your passionate way of working. The way you do it! I thank everyone for their wishes, love and support.
Suhani – Nagpur Today: Sir which person inspires you the most?
Chef Harpal Sokhi: There are so many that I can't name them. But then I will always remember my father. Because he told me, "Harpal, I don't know anything about your line and I will only bless you and whatever you do, do it with passion". He has been my idol always. Professionally speaking internationally, there is Emeril Lagase, Jaimie Oliver, Gordon Ramsey, Rachel Ray etc. In India there is Satish Arora, Manjeet Singh Gill, Sanjeev Kapoor. I love all of them. I really respect all of them. They are the people who actually have brought respect to this industry.
Suhani – Nagpur Today: What is your message to Nagpur Foodies?
Chef Harpal Sokhi: As I always say in my show, "Kana Peena te Khul ke Jeena. "
Suhani Vanjani – Nagpur Today.